English Language Fairs in Schools
Hundreds join events in 4 dists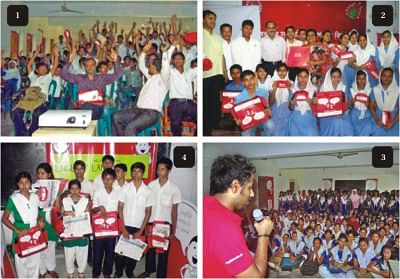 Hundreds of young learners spent a joyful day as they took part in amusing interactions in 'English language fairs' held at several schools in Kishoreganj, Bogra, Cox's Bazar and Patuakhali districts yesterday.
Under English in Schools (EIS) programme, The Daily Star and mobile operator Robi jointly organised the fairs in coordination with the education ministry to encourage English learning among secondary school students. Adcomm Ltd is the creative and event partner of the fair.
School students joined the fairs at Karimganj Pilot High School in Kishoreganj, Government Jubilee High School in Patuakhali, Government Girls' High School in Cox's Bazar and Gabtoli Government Girls' High School in Bogra town, reports our correspondents from these four districts.
Each of the fair venues saw screening of Lion King, a globally renowned movie, followed by students' participation in spot quiz, vocabulary test, one word question, and quick questions -- all based on the movie. Selected students also took part in two-minute extempore speeches on different topics and role-play.
Winners of the activities were given prizes at the end of the programme.
Md Mahbub Alam, assistant headmaster of Karimganj Pilot High School, inaugurated the fair there with participation of some 500 students as well as their teachers and family members.
''I congratulate the organisers of this wonderful programme. We are very happy to have the English language fair in our school. And by reading The Daily Star regularly under this EIS programme, the students and teachers of this school are being benefited," he said.
"I did not know that English can be taught in such a wonderful way. The Daily Star and Robi have shown us how to learn English in a joyful and easy way. The fair has made us really interested to learn English," said class nine student Nasrin Akter, who won first prize in spot quiz.
Around 150 students from Patuakhali Government Jubilee High School, Patuakhali Government Girls' High School and Latif Municipal Seminary took part in the fair at the auditorium of Government Jubilee High School.
Md Siddiqur Rahman, headmaster of Patuakhali Government High School, inaugurated the daylong fair.
In Cox's Bazar, Md Nasir Uddin, English teacher of Government Girls' High School, inaugurated the fair where students of the school and those of Bharuakhali Adarsha Uchha Bidyalaya participated.
Students of the two schools - Muntahima Naureen, Nishat Nawa Islam Raha, Faisal Kabir, Rafa, Tarin, Lima, Moumita, Ayesha and Tamanna - won awards in different competitions.
In Bogra, some 200 students attended the fair held at Gabtoli Government Girls' High School. Headmaster Md Saidur Rahman, other teachers as well as guardians of the students were also present.
The three-year EIS programme, initiated two years ago to promote the learning of English in secondary schools, covers seven lakh students in a thousand schools, including 317 government and 683 non-government ones across the country.
Three complimentary copies of The Daily Star, with a special page of English lessons prepared by the Centre for Languages of Brac University and coordinated by the education ministry, are given to each of the thousand schools five days a week under the EIS initiative.