Loko Natyadal (Banani) Festival underway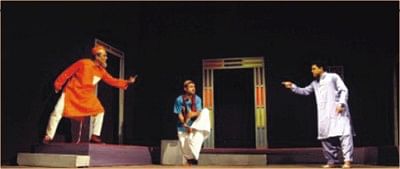 Loko Natyadal (Banani) will hold an eight-day theatre festival to mark its 30th anniversary. The festival will take place at Bangladesh Shilpakala Academy, from November 19 to 26. Six troupes -- from Bangladesh and India -- will stage nine plays at the festival.
Participating Bangladeshi troupes are Loko Natyadal (Banani), Aranyak Natyadal, Nagarik Natyasampraday and Subachan Natya Shangshad. Troupes from India, staging plays at the festival, are Nandipat (Kolkata) and Barnali (Tripura).
Established on July 6, 1981, Loko Natyadal has so far brought 25 plays to the stage. Its notable plays include "A Mid Summer Night's Dream", "Rothjatra", "Bidhi O Byatikrom", "Kanjush", "Shonai Madhab" and "Padma Nadir Majhi".