Children explore Dhaka and Chittagong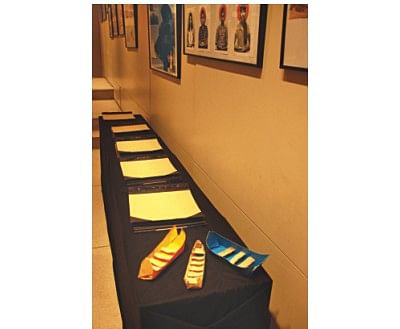 Apart from its regular cultural activities, the Goethe Institut Bangladesh (GIB) operates German language classes for secondary school students. Known as PASCH (Partner Schools), the project was initiated in 2009 in Bangladesh. So far, five schools have joined the programme.
Featuring works of the students of four of these partner schools, an exhibition began at the auditorium of Goethe Institut in Dhaka on October 25. The exhibition features photographs, texts and paintings by the students of Maple Leaf International School, European Standard School, Oxford International School (all in Dhaka), and Mastermind International School (in Chittagong).
The aim of the exhibition is to explore the cities -- Dhaka and Chittagong -- through the eyes of the children. Guided by artists Taimur Islam and Syeda Farhana, the children visited historical and other important sites in the cities. The artists helped the children meet communities -- to understand their lives and living conditions.
The exhibition is the outcome.
The exhibition showcases life in the two cities through two different approaches: one is based on literature/books on the cities, and the other involves history. Each group has also chosen different medias for presentation.
The students of the schools in Dhaka articulated their experiences through collages of pictures and short descriptions that give an idea of the capital. They visited historical places such as Armanitola Church, Boro Katra as well as Baldha Garden in Old Dhaka and discovered hidden treasures that are constantly under threat.
In Chittagong, students documented their personal meetings with different religious communities and noted personalities in their diaries and collages of paintings and pictures.
The project will be presented to other partner schools in India and Germany. The exhibition will remain open till November 4, from 10am to 7pm everyday.