Abul shows up to end hunger strike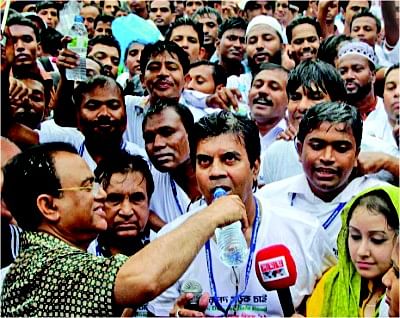 Noted road safety campaigner Ilias Kanchan yesterday demanded more action and less rhetoric from the government to minimise road accidents.
"We have got assurances from governments over the years, but now we hope we won't have to be content with assurances any more. We want action," he told a token mass hunger strike programme.
Nirapad Sarak Chai, a road safety advocacy group, organised the six-hour event at Central Shaheed Minar to press home its 14-point demand.
Kanchan, chairman of the organisation, though, pointed out that their movement is not anti-government, rather it is against road accidents.
Much to the surprise of the participants, Communications Minister Syed Abul Hossain turned up at the event five minutes before it rounded up at 4:00pm.
"Particularly, road accidents do not happen, they are caused. So it is imperative that a social movement is created to make the people aware of road crashes," mentioned the minister.
He assured the organisers of meeting their demands including declaring October 22 as National Road Safety Day.
The minister offered a sip of water to Kanchan to end the hunger strike programme.
Several friends and family members of road accident victims criticised the minister, though, before his arrival at the venue. They censured him for not taking enough action to minimise accidents.
Citing that most of the professional drivers start driving without any prior training, they urged the authorities to refrain from issuing driving licences without proper examination.
The recent deaths of film-maker Tareque Masud and television personality Mishuk Munier in a road crash in Manikganj triggered a wave of criticism against Abul Hossain, with many demanding his resignation.
"It appears as if the road communication system has fallen into the hands of a mafia. We need to come out of it," observed Ramendu Majumder, a cultural personality.
It is a "shame for the government" as people have to sit in a hunger strike demanding road safety, said Awami League leader Mahmudur Rahman Manna.
He demanded action against those responsible for issuing licences to unskilled people before bringing errant drivers to book.
Mujahidul Islam Selim, general secretary of Communist Party of Bangladesh, Dr Zafrullah Chowdhury, founder of Gonoshasthaya Kendra and Mili Rahman, widow of Bir Sreshtha Matiur Rahman, among others, joined the programme expressing solidarity with the cause.
Meanwhile, noted columnist Syed Abul Maksud yesterday said he felt "dejected" to hear that the participants of the hunger strike did not reject the communications minister.
Talking to The Daily Star, he held Abul Hossain responsible for the woeful condition of the communications sector.
Maksud has been campaigning for the last few months demanding the minister's removal.
Famed film hero Ilias Kanchan launched the Nirapad Sarak Chai (We Demand Safe Road) campaign in late 1993 after he lost his wife in a road crash in October that year. The organisation has over 80 branches.
Its demands include revision of existing laws, installation of more road dividers, making SSC the minimum educational qualification of a driver and setting up institutions for driving and mechanical training.