Survivor Deen tells tale of horror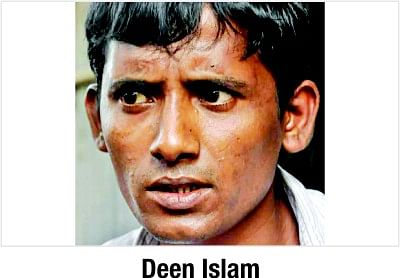 Docker Deen Islam came home yesterday after his unintended trip of horror to Singapore in April.
The poor chap and one of his co-workers had fallen asleep inside a cargo container in Chittagong Port and got shipped off. His friend died during the nine-day ordeal without water and food.
Reaching home at Biswacolony of Pahartali in Chittagong, he was narrating his plight to his family and neighbours.
Every single moment he passed with uncertainty, hopelessness and with fear of death, the 30-year-old said.
On April 1, he and his friend Al Amin worked for 10 hours straight at jetty-2. After dinner, they decided to have pot and take a nap in one of the cargo containers, a decision that turned out to be fatal for Amin and a life changing experience for Deen.
With them sleeping inside, the container was locked up and loaded on to Hansa Caledo heading for Singapore.
"When we woke up, it was too late," Deen said adding that they shouted and banged the container walls in vain.
The ship set sail on April 2.
"It was completely dark and damp inside," Deen went on, adding that they started praying to God.
They could not even see each other in the dark but they knew when it was night and day feeling the temperature inside.
"Amin died two or three days later...I don't know. He was so thirsty in the end and so delusional that he was calling for his parents to give him water."
The days became more horrifying for Deen after Amin died. He was not only starving and thirsty but he had a decomposing body lying next to him.
It rained one day and a few drops of seeping water helped a little.
On April 10, Deen felt that the ship docked somewhere as it stopped moving and rocking. Hearing loud banging in the container, workers at Pasir Panjong Container Terminal in Singapore discovered Deen.
He was rushed to a hospital and treated for several days. A foreign lady took him in later on, Deen said. He met Bangladeshi journalist AKM Mohsin who also helped him return home.
Bangladeshi expatriates gave him a farewell a week ago and Tk 50,000.
Deen promised never to take marijuana again while his mother Shaheda Begum said she would never let her son work at the port.