Turn the population tide
Star-UNFPA roundtable asks govt to cash in on youth to turn it into asset, rev up birth management programmes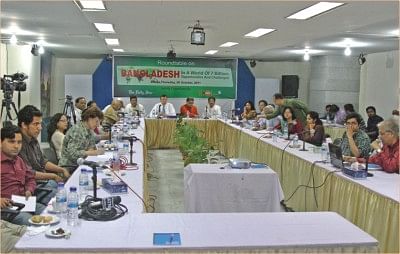 Bangladesh needs to revitalise its sloth population management programmes with new approaches so that they help the country rein in the population boom, analysts and experts said yesterday.
They said the country, one of the world's most populous, could reap demographic dividend out of its large working age and younger generation, making the population an asset, not a burden.
However, providing food, health, education, housing, water, and sanitation to the rising population would be a great challenge if the government does not act now with new policies and increase investment particularly in education, health and agriculture, they said.
They talked about the early marriage problem, amending laws to this end, and urban planning to accommodate the rising population.
Their comments came at a roundtable styled, "Bangladesh in a World of 7 Billion: Opportunities and Challenges" jointly organised by The Daily Star and the United Nations Population Fund (UNFPA) at The Daily Star Centre.
The roundtable was organised at a time when the world's population is set to pass the seven billion mark this month, according to the UN.
The country's family planning programmes need revitalisation for managing population growth, said Arthur Erken, UNFPA representative to Bangladesh.
"It is not about renewing the existing programmes. We have to target and reach especially those areas where we have lack in programmes."
He said there should be renewed focus on the country's growing young population.
"We also need to have a major focus on early marriage." Erken said Bangladesh ranks third when it comes to early marriages. "We cannot be a middle-income country if half of the country's girls get married before 16. Enforcement of legal marriage limit is very important."
Vouching for investing heavily in agriculture to feed the growing population, he said, "We have to produce enough food for them." Bangladesh should have a better urban planning as more and more people are coming to urban areas. "But we see flat urbanisation here where it eats up agricultural land. It is not sustainable."
He said the role of the media is important if people have to take action.
"This has to be a national issue. There must be debate in parliament. This issue has to be a major political agenda. We have to look at opportunities and challenges of the growing population."
Presenting a paper, AKM Nurun Nabi, professor of the department of population sciences of Dhaka University, said Bangladesh experienced a slow population growth until the end of World War II and the growth rate took a galloping pace afterwards.
Each year population increases by 1.8 to 2.0 million, he said, adding that the demographic structure of the country's population suggests that its population will continue to grow for decades to come.
There are brighter and darker sides of the country's population. The brighter side is that the population is young, he said, adding that this young population is a demographic bonus for the country as it has the strength, energy, vigour, pool of workforce and potential for future leadership. This demographic bonus could bring huge dividends if handled properly.
He said this window of opportunity opens for a population only once. "If we fail to grab this opportunity immediately, this young population could be a burden for us," said Nurun Nabi.
Atiq Rahman, chairman of the Bangladesh Centre of Advanced Studies, said the people of reproductive age are more concerned for Bangladesh. He said the condition demands that Bangladesh take action but policymakers are apparently quiet on the issue. "Decision has to be pro-poor to make population management a success."
Barkat-e-Khuda, professor of economics at Dhaka University, said the country has to do a lot in the areas of human resources and education. "Otherwise we will not be able to turn the young population into an asset."
Ella de Voogd, first secretary of the Netherlands embassy in Dhaka, said there is inequality between men and women even in the households. Women do not have any say in whether they want a child. If they do not have easy access to contraceptive then unwanted child birth will continue, she said.
Prof M Omar Rahman, acting vice-chancellor of Independent University, Bangladesh, said, "Chittagong and Sylhet are the affluent areas of the country, but we see high population growth in those areas. We need to take up special programmes for those areas."
AKM Zafar Ullah Khan, former health secretary, said Bangladesh has set 18 years the legal age for girls to get married. "But at that age a girl is still a child. We need to amend our laws."
The former civil servant said the country has the infrastructure in rural areas to contain population growth. "We are just not using them. We also need to look at our service delivery system."
Nashid Kamal, a professor of biostatistics of the department of public health at North South University, said, "We talk about unskilled workers coming from the rural areas to urban slums but we have not taken any steps for making family planning available for them."
The Daily Star Editor and Publisher Mahfuz Anam said, "There was a time when we made substantive progress on birth control and family planning." He said perhaps the country became too complacent and may have taken its eye off the ball.
"We really need to do something to make us aware to the fact that population is really a bomb ticking away comparatively unnoticed," he said.
He said the tragedy is that the issue is not on the mainstream political agenda. There has not even been any serious discussion about population in parliament, which is quite alarming, he added.
"Let us come up with some doable ideas and actions--immediate, medium and long term," he said.
Gias Uddin, deputy director, services of Directorate General Family Planning, said the family planning department does not have enough manpower and necessary facilities to run its programmes efficiently.
Prof Shamsul Alam, a member of the planning commission, said the country is in a situation to reap the benefits of the demographic character. "Our 60 percent population is in working age. This is something that will not last long."
He said the country's population management initiatives lost momentum in the last decade. "It is a major concern. We have to take up population control as a social movement. We need to go door-to-door to start again."
Promit Ananyo, a member of National Youth Forum, said things will be impossible to control until women are empowered and provided with proper education. "In our country, girls have no choice. Until they are educated, nobody is going to listen to them."
Nasrin Akhter, project coordinator, adolescent reproductive health, Plan Bangladesh, said the issue of life-skill education, especially for the adolescent, and reproductive health should be incorporated in school curriculum.
Noor Mohammad, UNFPA assistant representative, and Habibur Rahman, deputy secretary of health ministry spoke while Abu Jamil Faisel was present.
---
KEY SUGGESTIONS
* Enforce girls' legal marriage age (18)
* Enhance contraceptives supply
* Resume door-to-door population control campaign
* Focus on urban slums
* Empower women, girls
* Invest in youth, utilise young population
* Strengthen family planning department
* Link population control with social safety net projects
* Harmonise role of government, NGOs and donors
* Invest in rural sectors, education and health
* Take pro-poor decision