Transit underway
Word 'trial' not stated in NBR letter to Akhaura port authorities; goods being transported to Agartala 'without any tax or charges'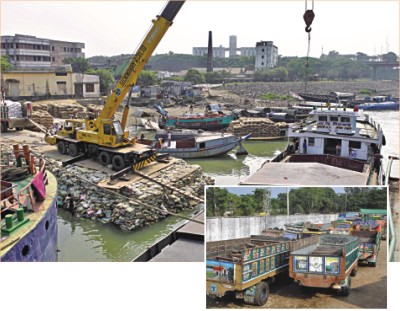 The first regularised transit of Indian goods to Agartala through Akhaura Land Port seems set to take place today while trial transit runs and its impact assessment have not been completed yet.
Meanwhile, officials of the Bangladesh shipping ministry and the National Board of Revenue (NBR) are avoiding making it clear whether the nine trucks load of iron bars waiting at Akhaura Land Port to cross over to Agartala are getting trial transit or a regularised one.
Land customs officials at Akhaura Land Port confirmed that they received a government order yesterday evening identifying the consignment as "transit and transhipment goods", and asking them to transfer those to Agartala. The order did not mention any fee to be charged.
The order also said the goods will be unloaded in Agartala instead of Akhaura. Port officials said by not letting the trucks to be unloaded in Akhaura, Bangladesh will lose a large amount of money in terms of unloading and reloading charges.
Earlier during two trial transit runs, the land customs authorities made sure that goods in transit are unloaded inside the port area so the port and labourers there could earn some money. But in yesterday's order the Bangladesh government specified that the goods will be unloaded in India.
During the trial runs, Akhaura Land Port Authority earned Tk 70,000, and the labourers there also made some money.
Land Customs Officer of Akhaura Land Customs Station Subash Chandra Kundu said, "The previous two orders mentioned the word 'trial', but the latest order only mentions 'transit and transhipment'".
"We are not fully clear about what is going on. We are just following orders of the higher authorities," he told The Daily Star yesterday.
Akhaura Land Customs Office received the order from Chittagong Customs Commissioner's Office. The main order is however issued by NBR.
During a visit to Akhaura Land Port yesterday, it was seen that nine Bangladeshi trucks each carrying 17.5 tonnes of iron bars for Tripura Ispat Factory were waiting there to cross the border since October 12. Those are expected to cross over to Agartala today afternoon.
A consignment of 621 tonnes of iron bars first arrived at Ashuganj River Port from Kolkata on board a Bangladeshi ship MV Nilkantha, there a portion of the consignment was loaded on the nine trucks that went to Akhaura Land Port to cross over to Agartala in India. MV Nilkantha is still anchored at Ashuganj River Port to unload the rest of the consignment. A Bangladeshi shipping company Indo-Bangla Shipping Lines is the owner of Nilkantha.
Manager of Indo-Bangla Md Nazib said, "We brought the goods as part of regular transit."
He said they had to give bank guarantee to transport Indian goods. In case of damage or loss of the goods, the Indian company will be compensated from the bank guarantee, he added.
Asked how Bangladesh is benefiting from transit for Indian goods, people in Ashuganj and Akhaura ports said Bangladeshi truck owners and labourers at the ports get some money out of it and that is all.
In the first trial transit of Indian goods an Indian ship Homi Baba brought 305 tonnes of galvanized steel sheets to Ashuganj River Port from Kolkata, from there the consignment was transported to Agartala by trucks via Akhaura Land Port.
In the second trial run 866 tonnes of galvanized steel sheets were brought to Ashuganj River Port by a Bangladesh ship Gulf - 4, from there a half of the consignment made it to Agartala through Akhaura Land Port by trucks. The other half is still waiting in transit at the land port.
Not a single authority in Bangladesh could make it clear yesterday whether the consignment of iron bars from India is getting trial transit or regularised transit.
The Daily Star talked to a number of top officials of the shipping ministry and NBR, but none was willing to talk on the issue. Shipping Secretary Abdul Mannan Hawlader said, "NBR is dealing with the matter. They will tell you what it is."
When contacted, NBR Member Shah Alam Khan suggested contacting the shipping ministry. "They will tell you about it since everything is being done under the inland protocol," he said.