Bobita working for underprivileged children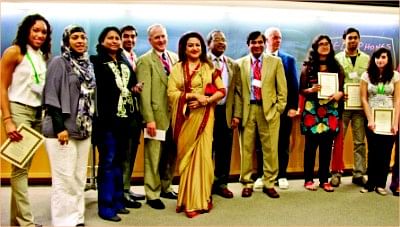 Seasoned Bangladeshi actor Bobita has been selected as the Goodwill Ambassador for Distressed Children and Infants International (DCI). DCI works to generate awareness in the member states of the United Nations and raises funds for underprivileged children. Bobita is now in New York to attend a conference organised by the non-profit, US-based organisation.
On September 10, at Yale University, a five-minute documentary, titled "Genesis of Bobita" -- highlighting some basic information on Bangladesh and the career of Bobita -- was screened as the conference began. In her speech, Babita called on international organisations to extend their support to Bangladeshi underprivileged children. The veteran thespian also declared that she would spend the rest of her life working for the betterment of impoverished children.
Bobita plans to travel around the world and meet expatriate Bangladeshis to raise funds for the cause. She is currently attending different conferences in North America, aiming to generate funds for the underprivileged Bangladeshi children so that they can go to school instead of work.