Toxic ship Ctg-bound
Environment dept, watchdogs ring alarm bell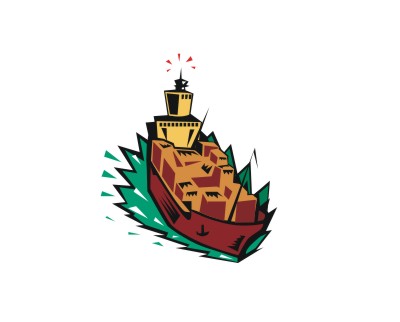 A highly toxic Chinese ship, detected with at least "79 deficiencies since 2010" at different ports, is now on its way to a ship-breaking yard in Chittagong for dismantling.
The Asia Union, formerly known as MV Humber and MV Cast Otter, is due to enter Bangladesh maritime boundary anytime tomorrow, said sources in international maritime watchdogs.
The Chinese ship is reportedly possessing hazardous substances including asbestos, polychlorinated biphenyl, toxic paints and chemical residues that have a wide range of adverse effects on humans, wildlife and the environment. If dismantled, the ship would expose workers and the environment to hazards.
The Department of Environment (DoE) in Chittagong has alerted the port authority and the coast guards about the hazardous ship and urged them not to allow it enter the country for dismantling, said Tajminur Rahman, senior assistant director of the DoE.
Bangladesh Environmental Lawyers Association (BELA) in a letter to the DoE, the Mercantile Marine Department and the Chittagong Customs yesterday warned them about the hazardous ship's arrival.
Bela said Indian ship breakers rejected dismantling the Chinese ship for having hazardous substances. The organisation urged the offices concerned not to issue any NOC or environmental clearance for dismantling the ship in Bangladesh.
Sources said Global Marketing System (GMS), a US company that negotiates sales of vessels, brokered the deal for purchasing the Chinese ship for RS Shipping, a Chittagong-based company.
Parimal Sharma Barua, operation manager of RS Shipping, said they had been in talks about the deal and the ship was yet to arrive. He declined to comment further.
An official of Robins des Bois, a Paris-based watchdog for protection of people and the environment, said that surprisingly, the ship was never detained despite being detected with many deficiencies by Port State Controls at different ports.
"This is a 29 year-old ship coming to the end of her life. She is in a very bad state," said Christine Bossard, in-charge of campaign at Robin des Bois.
Sources in the ship-breaking industry said the entire process of procuring a ship is done dubiously. Pre-cleaning certificates, environmental clearance and other documents necessary to purchase ships are obtained instantly.
Sometimes pre-cleaning certificates are faked and other clearance certificates are obtained in package deals, said a source in the industry.
The source said there is a plan to purchase a total of 300 ships in a short time for dismantling.
India, China, Pakistan and Bangladesh are the leading ship-breaking countries in Asia. In the international ship breaking business Bangladesh is considered a dumping ground for older ships and vessels with hazardous substances due to lack of laws in the country.
The authorities have given permission to dismantle more than 100 ships in ship-breaking yards in Sitakundu since the High Court on March 7 conditionally relaxed restrictions on purchase of ships for dismantling.