<i>Celebrating bounties of nature</i>
The Daily Star, StanChart award talents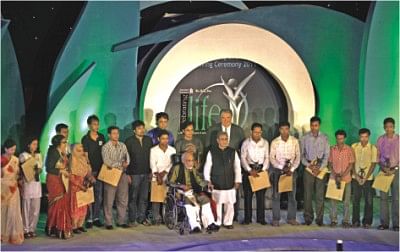 The ambience inside the Bangabandhu International Conference Centre perfectly matched with the world outside as 25 Bangladeshi percussionists kicked off a mesmerising performance featuring tabla, pakhawaj, khol, dhak, madol and octapad.
As an unexpected torrent drenched the city, the impassioned orchestra of percussions -- conducted by seasoned tabla player Milon Bhattacharjee -- conjured up a storm of beats. The refined pakhawaj and the raw, intoxicating madol were linked by the steady tabla -- a brilliant start of an event recognising and honouring the talents in Bangladeshi culture.
The award giving ceremony of the fourth "Celebrating Life", an annual talent hunt recognising emerging photographers, filmmakers and lyricists, organised by The Daily Star and Standard Chartered Bank, was held last night.
The theme of this year's contest was "Celebrating the Gifts of Nature". Information and Cultural Affairs Minister Abul Kalam Azad was the chief guest at the programme.
The event was dedicated to the recently deceased filmmaker Tareque Masud and journalist-cinematographer Mishuk Munier. Rafi Hossain, editor of Star Insight and coordinator of "Celebrating Life" recalled Masud's involvement in the contest. A minute of silence was observed for the duo.
Following the welcome speech by Mahfuz Anam, editor and publisher of The Daily Star, and vote of thanks by Jim McCabe, CEO of Standard Chartered Bank, Bangladesh, the winners received their awards from the chief guest.
This year's contest received over 10,000 entries (4,000 photos and 6,000 songs). Ripa Sarker won the first prize in lyrics category and M Yusuf Tushar in photography category. No award was given in filmmaking this year.
Filmmaker Soovas Dutt, photographer Shahidul Alam and music director Khandaker Nurul Alam was given Lifetime Achievement Awards for their great contributions in respective fields.
The highlight of the event was a live performance by virtuoso Indian classical vocalist Ustad Rashid Khan. The Ustad, on surmandal, started off with an alaap on Raga Malkauns.
A brilliant start and a dazzling end -- the Celebrating Life finale gave the classical music lovers a memorable experience. In-depth coverage of the event will be in tomorrow's Star Arts & Entertainment.