People by the Teesta want equitable water share
Boat race, prayer held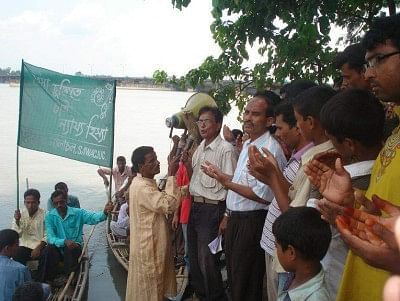 People living on both sides of the Teesta River in Dimla upazila joined a boat procession on the river yesterday demanding equitable share of Teesta water.
Several hundred people from Dalia, Chhoto Khata, Baishpukur, Khalisha Chapani, Purbo Kharibari, Chhatunama, Pagalpara, Tepakharibari villages took part in the procession, boarding about 50 boats.
The procession started from Dalia point near Teesta Barrage at around 11:30 am and reached Sadhur Bazar of Lalmonirhat district at around 12:30pm.
The processionists, carrying posters and festoons, chanted slogans in favour of their right to have an equitable share of Teesta water. They came back to Dalia point at around 1:00pm and joined a special prayer there.
The special prayer was offered, seeking blessings of the almighty Allah so that Dhaka and Delhi sign an agreement on sharing the water of Teesta River on the basis of equity during Indian Prime Minister Manmohan Singh's Dhaka visit beginning today.
They also sought blessings of Allah so that the governments of Bangladesh, India, Nepal and Bhutan can work together to form a 'joint river basin authority'.
After offering prayer, the participants released two pigeons, tying two letters to their legs. The letters were sent to Indian Premier Manmohan Sing and Bangladesh Prime Minister Sheikh Hasina.
Muhammad Hilal uddin, co-ordinator of South Asia Water and Climate Justice Campaign, Mossabbar Hossain, an official of Action Aid, Golam Rabbi Raju, chief executive of a local NGO, and Dr Tuhin Wazed, a teacher of Begum Rokeya University also joined the boat procession and special prayer along with the villagers.