Chanchal Chowdhury @DS Café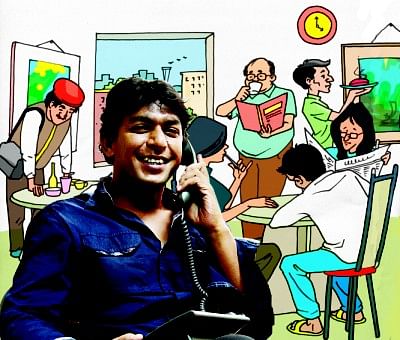 Chanchal Chowdhury, one of the most popular actors of the small screen, has personified diverse characters throughout his illustrious acting career. The actor has a strong theatre background as well, which helps him to articulate characters at ease. He has acted in films too and won many a heart through his brilliant performance in Giasuddin Selim's "Monpura".
Recently, the busy actor was at DS Café, and spoke to fans over the phone and Star Arts & Entertainment.
Emon, Rajshahi: I'm a huge fan. I've seen all your TV plays. Where do you live?
Chanchal: Thanks. It's nice talking to a fan. I live in Siddheshwari.
The Daily Star (TDS): Are you still active on the stage?
Chanchal: Theatre is my passion and I still perform on stage regularly with my group Aranyak Natya Dol.
Laboni, Dhaka: What inspired you to become an actor?
Chanchal: I enrolled at the Institute of Fine Arts (now Faculty of Fine Arts), Dhaka University after moving to the city. I tried my hand at acting several times in my younger years. While studying at the institute, I got the chance to become more involved in acting and joined Aranyak Natya Dol in 1996.
TDS: Did you enjoy acting in a feature film?
Chanchal: Of course. That is the biggest medium to prove oneself as an actor. I've been working on the stage for a long time, and my passion will drive me towards many more performances in theatre productions in the future. TV plays give me the chance to reach out to audiences from all levels of society. But a good performance in a film defines major success. It cements an actor's place for ages.
Akash, Natore: Can you help me with acting?
Chanchal: Come to the end of your learning curve and the opportunity will knock at your door.
Zeenat, Dhaka: I'm a Masters (first year) student at FFA. I'm a huge fan of yours and can't express how much I enjoy your works. What do you do besides acting?
Chanchal: I was also a student at the institute. I don't do anything besides acting. It is my profession. However I also sing as a hobby.
TDS: Is there a particular role you wish you could play?
Chanchal: I don't have any particular dream role, but I always want to take on the challenge of portraying roles that I have never tried before. I try to give my characters as much life as possible. I always strive to receive new roles as I've already performed in over 400 plays during my 15-year long acting career.
TDS: Are you satisfied with what you have achieved?
Chanchal: Pretty much. I work because I love it. If I didn't enjoy it, I wouldn't be able to continue working.
TDS: How did you meet Salahuddin Lavlu?
Chanchal: Lavlu bhai saw me perform on the stage at Mohila Shamity. A year later, he called me up. My first work under his direction was "Chor Phad". Later he cast me in the serial "Bhober Haat". Since then, I've worked in most of Lavlu bhai's productions.
Rafiqul, Natore: Where did you learn to act so brilliantly? Which was your first play?
Chanchal: Several sources, especially from the stage and directors. My first play was "Shundori", directed by Mamunur Rashid.
TDS: How did "Monpura" happen?
Chanchal: Before "Monpura", I had worked with Giasuddin Selim on a few projects. My first project with him was a 26- episode serial called "Enechhi Shurjer Hashi". I continued working with him for several years after that and during that time I heard the story of "Monpura" from Selim bhai. He changed the cast many times as the actors kept aging.
I used to sing the now-famous song "Dhoro Bondhu Amar Keho Nai" (later featured in "Monpura") at the sets after we wrapped up. I requested Selim bhai to let me sing the song for the movie, even if he didn't cast me. However, a few months before shooting for the film began, Selim bhai called me up and told me to stop cutting my hair and shed a few kgs. When I asked why, he answered that he would cast me in "Monpura". Initially, Prova was cast opposite me. We shot the movie in 75 days.
TDS: How did you land the role in "Moner Manush"?
Chanchal: All thanks to theatre. Goutom Ghosh saw the "Rarang" production of Arannyak, where I play the role of a constable. After watching me perform, he wanted to cast me in the film. Later, the movie's distributor Habib bhai called me up with the offer.
Sagar Chowdhury, Sylhet: How did you feel after receiving a National Film Award?
Chanchal: That was a major occasion for me. This is the highest honour for any actor. It is a great achievement for me to earn state recognition for my performance.
TDS: Do you like travelling?
Chanchal: Honestly speaking, the only travelling that I do is to places where I have to shoot. I don't get the time to go to other places.
Zakir, BUET, Dhaka: Which Eid-special plays did you work on this year?
Chanchal: I put in a lot of hard work this Eid. Around 15 plays featuring me were aired during the festival.
TDS: How would you place yourself if you had to choose the top 10 popular actors in the country?
Chanchal: This is tough for me to answer. The audience are the true judges. Perhaps I won't even be in the top ten (laughs).
TDS: Who would you regard as the best contemporary actors?
Chanchal: This is also a tough one to answer. I can't name just one.
Anik, Rajshahi: You use the Pabna dialect in many of your plays. Where in Pabna are you from?
Chanchal: My family home is in Sujanagar thana, Pabna.
Shamim Zaman, Dhaka: When will you begin shooting for your next film?
Chanchal: Probably mid-September.
Tuhin, Patuakhali: Any update on your next movie?
Chanchal: I will soon begin working on Mostofa Sarwar Farooqi's next film "Television".
Transcribed by Shah Alam Shazu