Programme to test formalin in Ctg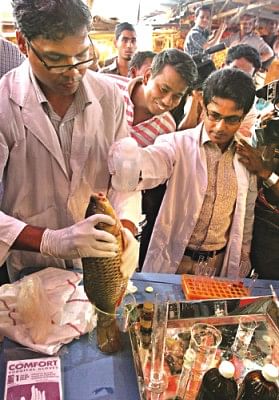 An initiative to check raw food items for formalin was initiated in the port city's Kazir Dewri Bazar yesterday.
Kazir Dewri Bazar Traders' Association and Chittagong Chamber of Commerce and Industry (CCCI) jointly launched the formalin test programme.
The initiative was taken as part of the anti-formalin campaign to make people aware of the adverse effects of formalin on human health, said CCCI acting President Mahbubul Alam when inaugurating the programme.
Consumers at Kazir Dewri Bazar, a kitchen market with 127 shops, can get the raw food items tested for formalin from the test points available at the market entrance, said Abdur Razzak, president of Kazir Dewri Bazar Traders Association.
The test points with a chemist appointed for each will remain open from 9:00am to 9:00pm everyday, he said.
The programme will initially continue till Eid-ul-fitr and further action will be decided after that, he added.
"We urge the people to get their selective food items including fish and meat checked before buying them," said Mahbubul.
Khaled Mamun Chowdhury, assistant deputy commissioner of Chittagong (Education & Development), appreciated the initiative and assured the administration's cooperation to make the programme a success.
S Alam Group, BSM Group, Alam Trading and Kazir Dewri Bazar Traders' Association sponsored the programme.
CCCI Vice-President Nur Newaz Selim, BSM Chairman Abul Bashar Chowdhury and Consumer Association of Bangladesh representative Jesmin Sultana Paru, among others, were present.