Banks rein in credit growth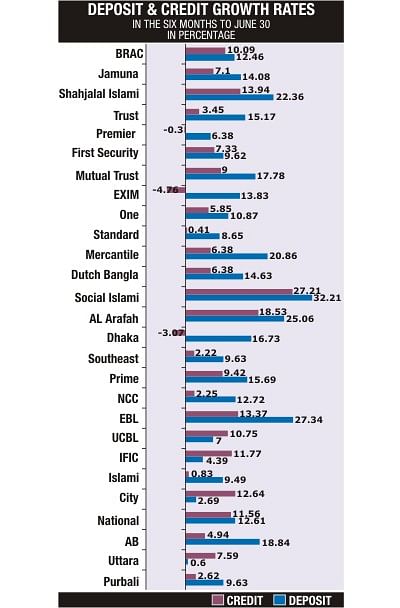 Commercial banks lowered the credit growth to almost half of their deposits in the six months through June, thanks to the central bank's efforts to put a leash on loans.
Banks' deposits rose 11.22 percent to Tk 4,14,053 crore on June 30 from December 31 last year. Credit increased 6.02 percent to Tk 3,36,223 crore in the same period, according to data from Bangladesh Bank.
Banks seem to have returned from aggressive banking, putting brakes on credit expansion.
K Mahmood Sattar, president of Association of Bankers, Bangladesh, said the banks have consciously reduced their credit.
A Pubali Bank official said the central bank took steps to cut credit growth. Many banks were compelled to lower their credit to correct mismatches in fund management.
In an effort to control credit growth, Bangladesh Bank raised repo and reverse repo interest rates by 225 basis points in four steps in the last one year. It also raised the cash reserve ratio for banks by 50 basis points in December 2010.
The central bank's Monetary Policy Statement released in July also said BB's supervisory and credit policy steps to rectify unbalanced lending practices in banks included monitoring and enforcing of prudent advance deposit ratios and good forward looking liquidity management.
The banking regulator took measures to cut the banks' exposure to risky investments, including stocks and discouraged the banks from giving loans to unproductive sectors.
Besides, BB withdrew the lending cap, except for thrust sectors, resulting in a substantial increase in the rate of interest on bank loans.
The average rate of interest on loan was 11.23 percent in June last year, which rose to 12.17 percent in May this year.
A senior vice president of United Commercial Bank said banks took effective steps to increase deposit, as they faced a liquidity crisis. They increased the interest rate on deposits on one hand, and introduced a series of deposit schemes with attractive offers on the other.
The average interest rate on deposits increased to 7.24 percent in May, compared to 5.95 percent in June last year, according to the central bank statistics.
Credit outpaced deposit growth at some state and foreign banks. The deposit of state commercial banks increased by 10.01 percent and credit went up 13.99 percent.
In line with the government policy, state banks had to give loans to many government agencies, including Bangladesh Petroleum Corporation, said an official of Agrani Bank that gave the largest amount to the state fuel distributor. The result was, credit growth outstripped deposits.
But the deposits of private commercial banks rose by 12.16 percent and credit by 5.56 percent in the six months through June.