Punishment to culprits demanded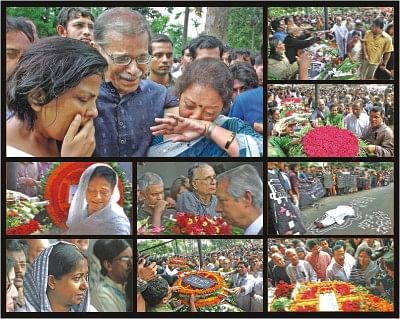 Condolences continued to pour in yesterday on the sudden demise of eminent filmmaker Tareque Masud and Chief Executive Officer of ATN News Ashfaque Munier, popularly known as Mishuk Munier, and three others in a road accident on Saturday.
Different organisations and noted personalities in separate statements said one thing is common: The untimely departure of the two priceless talents has numbed and aggrieved the nation.
Expressing concern over the rise of road accidents, the statements said an anarchic situation is prevailing on the country's roads and highways. They demanded a neutral investigation into the accident and exemplary punishment of the people responsible.
Tareque and Mishuk will be remembered for their creative works and continue to inspire the young generation, read the statements. The organisations prayed for salvation of the departed souls and conveyed sympathy to the bereaved families.
Nobel Laureate Prof Muhammad Yunus expressed deep shock at the deaths and said the nation will remember their creative and skilful contributions to the fields of film and journalism. "The country lost two invaluable talents," he said.
Ekatturer Ghatak Dalal Nirmul Committee said it is not a mere accident but a kind of murder. The government, opposition party, transport division, roads and highways department and police cannot avoid their liabilities, they said.
They demanded of the government to formulate a provision of death penalty when someone dies after being run over and ensure exemplary punishment to the vehicle's driver and owner if they are found responsible for the death.
They also demanded punishment to those who are providing plying permits to faulty vehicles and those who are not taking any action against people violating rules on highways.
Ain O Salish Kendra said it is the irresponsibility of the authorities concerned including policymakers, law enforcing agencies, licensing agencies and drivers which is why such accidents are occurring frequently.
It demanded of the authorities concerned to refrain from providing illegal licenses.
Karmojibi Nari said the country would keep on losing talented people like them if road accidents, which are increasing, are not prevented.
Bangladesh National Women Lawyers' Association demanded of the government to formulate a policy which would ensure liability of all concerned in this regard.
University Grants Commission, Bangladesh Shilpakala Academy, Bangladesh Police Service Association, Bangladesh Women Chamber of Commerce and Industries, Association of Development Agencies in Bangladesh, Families United Against Road Accident, Chhayanaut, History Department of Dhaka University, Chittagong Sangskritik Kendra, Bangladesher Biplobi Workers Party, Bangladesh Jubo Moitree and Chhatra Moitree, Bangladesh Christian Association, Manush, Joy Bangla Sangskritik Oikkyajote, Safety and Rights Society, Al-Falah Bangladesh, Bangabandhu Diploma Engineers Association, Bangladesh Nari Sangbadik Kendra and Expressions Ltd in separate statements also condoled the death.
Our Chittagong correspondent adds: Leaders and activists of different socio-cultural organisations of Chittagong city under the banner "Sachetan Nagorik Samaj O Sarbastarer Sanskritik Kormi" formed a human chain at Central Shaheed Minar yesterday paying homage to the two noted personalities.
Teachers and students of Fine Arts Institute of Chittagong University also brought out a protest procession from the campus demanding safe roads and punishment to those responsible for road accidents.