Bangabandhu: Our epic, tragic hero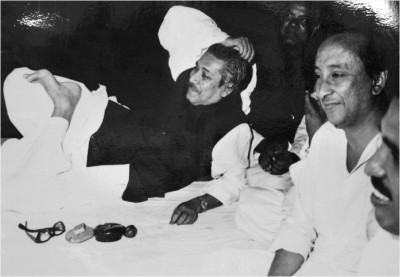 He was a man, take him for all in all,
I shall not look upon his like again. (Hamlet, 1.2.187)
Everything about Bangabandhu Sheikh Mujibur Rahman makes him appear larger than life. By Bengali standards he was an exceptionally tall man and his stature in his lifetime made him appear positively a giant, especially when one compares him to the many morally puny politicians of West and East Pakistan who sat across the table to negotiate with him or who betrayed him at one point of his career or the other. Look at the photographs of the man on the dais delivering his unforgettable March 7, 1971 speech to a restive Dhaka crowd thirsting for independence or view him on his return to his beloved and newly independent Bangladesh on January 10, 1972 and you will be impressed even now at his physique. Certainly, he had that rare quality -- presence -- as anyone who met him would testify. For sure, he was physically and morally of the size that colossuses are made of. Even in death in artist Shahabuddin's evocative paintings, daubed in the red of the blood that he had shed because of assassins who desperately wanted to reverse the history he had made, he appears stately, even though he lies sprawling in them, and even though at that moment the country that he had created had become stained forever by his death. Listen to him speak even in the poorly recorded versions of the few of his speeches that are still available and you will agree that the voice has the power that compels and in the oratory the indignation, the conviction, the passion as well as the authority of one born to lead. His antithesis, even though he did not know it in his lifetime, was the literally small man who led the conspiracy to assassinate him, Khondokar Mushtaq Ahmad, for whom the bard could have written the lines he had penned in Julius Caesar for Cassius, who as everyone who has read the play knows had "the lean and hungry" look.
But it is important to understand Sheikh Mujibur Rahman did not become Bangabandhu overnight and that greatness was not thrust upon him. If he looks majestic in stature it is surely not only because he was a big man by Bangladeshi standards, manly in his looks and powerful in his oratory, but because he had grown in standing steadily over the decades since he entered politics. After all, he had given himself completely and selflessly to his people for cause after cause. As the years went by his sacrifices became legendary and he began to achieve mythical stature for his courage and indomitable spirit. Every incarceration proved his worth to his people and his readiness to sacrifice his freedom for them. That he had risked everything he had again and again for what he believed in and because of his belief in Bangladeshis made them see him as a giant among them and the leader destined to take them to the land of the free. By the time the last of the false trials against him was thrown out by the court of the people in the infamous Agartala conspiracy case there was no one who could come close to him in public estimation.
He was born in Tungipara village at a time when travelling from Faridpur to Gopalganj would take over a day. He survived at an early age a severe infection that had left him with a weakened heart and endured an eye operation that kept him away from studies for a while. Nevertheless, by the time he entered his teens he must have stood out from his companions. This was no doubt why when in 1938 the two great Muslim leaders of undivided Bengal, A. K. Fazlul Huq and H. S. Suhrawardy visited Gopalganj where the local Hindu boys were getting ready to disrupt a public meeting they were supposed to address, Suhrawardy's eyes were attracted by the energetic member of the Muslim boys' volunteer brigade who was taking the lead in opposing them. The great politician then took down his name and address so that he could thank him personally later with a note sent from Kolkata. In the process, a connection was forged that would draw the youthful Mujib to the heart of the movement for Pakistan led by Suhrawardy in the waning days of the raj when he had come to the capital of undivided Bengal to study in Islamia College.
In college, too, Mujib stood out because of his devotion to the movement afoot to create an independent Muslim state. One tends not to remember that in the years leading to the partition of India, Mujib gave himself totally to the cause of Pakistan just as he gave himself entirely to Bangladesh after India had been bifurcated. It was only when he felt that his people had been marginalised by an unholy alliance of émigré west Pakistani politicians, authoritarian army officials, rapacious feudal landlord-politicians and self-serving Muslim League toadies in East Pakistan that he would give up on Pakistan. Because he was a quick learner, he turned against the exploitative junta that led Pakistan in one form or the other -- civilian or military -- quickly. Indeed, it took only a couple of years for him when he came to Dhaka to study to discover the obtuseness of these men and their indifference to the state of the people of East Bengal. Indeed, his resistance often was of epic proportions -- months of solitary confinement, years of separation from his beloved and long-suffering parents, siblings, wife and children, years of -- at times solitary -- imprisonment on trumped up charges. But the more charges were concocted to discredit him the more he grew in the esteem of Bengalis. From being Mujib or Mujibur he became Mujib Bhai and then Sheikh Shaheb and finally and decisively he was declared to be Bangabandhu. The March 7 speech was perfect in proving the adage right once again: "Cometh the hour cometh the man". A huge tidal wave of, sympathy and support for him swelled and swelled and ultimately overwhelmed his foes in 1971.
Nevertheless, Bangabandhu's final years switched from the epic to the tragic mode. The problems he had to contend with no doubt were too many -- the country had bled for almost a year and lost many of its most loyal and capable people; its infrastructure had been smashed; there were too many unaccounted arms circulating, a far left movement was unsettling law and order; on the far right the defeated razakars and al-badrs were surfacing in new guises aided by the intelligence agency of a discredited army and undisclosed amounts of money; the treasury was all but empty; almost everything was having to be imported; a global energy crunch and skyrocketing petroleum prices were crippling the economy. The final straw was a major famine -- one of the worst in Bengal's recorded history.
Bangabandhu strove manfully to contend with the unending problems of his impoverished and devastated land. Out of sheer desperation he abandoned the parliamentary democracy he had championed for decades in favor of a model that he probably had felt was working in Nasser's Egypt and Tito's Yugoslavia. No doubt so many noble and otherwise perfect heroes come to a tragic end because of one tragic flaw. Was this his? The one thing that was sure when he died in 1975 was this part of the subcontinent had lost its greatest leader, a superman, a champion the likes of whom we will never see again. Hindsight surely allows us to see that his journey through life was epic and his finals days tragic.
But his beloved country has more than survived; it is going places steadily and surely despite all the odds stacked against it. And he has stayed alive in the memory of true patriots as a mahamanab, a superman. And this year, and every year, his country will mourn him, loving him as they love no other leader in their history.
The writer is Professor of English at the University of Dhaka. His translation of Bangabandhu's Unfinished Memoirs will be published by UPL in Bangladesh and Penguin Books elsewhere at the end of this year.