<i>Fate puts a full stop</i>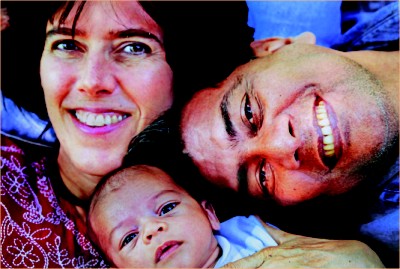 On the very first day Tareque and Catherine Masud brought their only son Nishad to Bangladesh six months after his birth in the US, they put him on a patch of muddy ground beside their house.
They wanted the baby to start his life in this country with a feel of the soil.
The couple, whose life revolved around filmmaking, had the baby 21 years after their marriage. They used to take Nishad, now 15-month-old, to shooting spots so they did not miss him while working away from home, says a friend of Tareque.
Yesterday, little Nishad Bingham Putra Masud was left home while his parents went out early in the morning. Only hours after, what happened to his parents is beyond his comprehension. His father was killed along with four others and mother injured in a road accident in Manikganj.
Family members and friends struggled to find words while talking to The Daily Star about the acclaimed filmmakers.
"Tareque and Catherine were so happy in their married life. I have never seen such a wonderful couple," said a close family friend. "They wanted their son to grow up independently. They did not want him to be under the shadow of their fame."
The two first met in the late 1980s at a programme in Dhaka. Catherine had come to Bangladesh from the US to do research on the NGOs.
Also a gifted painter, she had a keen interest in films and became a good friend of Tareque's.
She returned to her country on completion of her research and came to Bangladesh again in 1988. The same year she and Tareque got married.
Soon, Catherine joined her husband in filmmaking.
For years, when their friends and dear ones would tell them it was about time they had a child, they would say their films are their children.
They complemented each other perfectly and they always looked inseparable, said Sara Hossain, a friend of the couple. "They have done so well because their partnership gelled."
A madrasa student in his early life, Tareque graduated in history from Dhaka University. It was during his university days that he got involved with film society and other cultural organisations.