BB brings back credit discipline
Credit-deposit ratio reaches safe limit in June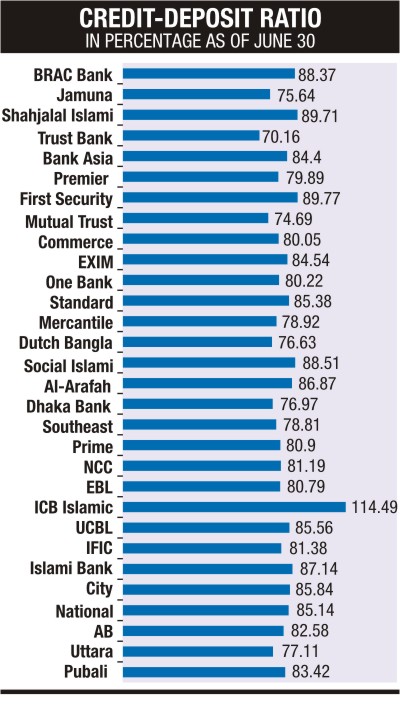 The credit-deposit ratio (CDR) of commercial banks came down to a safe limit in June, as the surplus inter-bank deposits were included in total deposits.
The banks increased deposits and reduced credit, trimming the CDR further, said an official of the Bangladesh Bank.
Commercial banks are not allowed to invest more than 85 percent of their deposits, while Islamic banks cannot exceed the 90 percent limit.
On June 30, the CDR of 43 local and foreign commercial banks fell to 79.68 percent from more than 85 percent in December last year. In many banks, the ratio was above 100 percent.
The banks' overall deposits increased by 11.22 percent on June 30, compared to six months ago. Credit fell 6.20 percent.
The banks included Tk 7,605 crore in the total deposits in June, according to the central bank.
The banks increased deposits aggressively, and every bank cut lending consciously, which pared down the CDR rate, said K Mahmood Sattar, president of the Association of Bankers Bangladesh.
He said a few banks could reap the benefit of inter-bank deposits but most of the banks' CDR fell as they reduced credit.
The BB set a deadline for the banks to bring down the CDR to the safe limit by June to restore credit discipline. The bank owners met with Prime Minister Sheikh Hasina with an appeal to relax the rules.
The central bank relaxed the rules and said the banks can calculate inter-bank deposits in their total deposits.
The CDR by state commercial banks was 72.9 percent on June 30. Those banks included Tk 4,580 crore inter-bank surplus deposits in their total deposits.
The CDR of the private commercial banks was 82.92 percent and they included Tk 2,992 crore in the inter-bank deposits, while that of foreign commercial banks was 76.96 percent and they added only Tk 32 crore in the inter-bank deposits.
Of the 30 private commercial banks, only nine included inter-bank deposits of over Tk 100 crore in their CDR.
Analysts held the banks' excessive investment in the stockmarket as one of the causes, which pushed share prices to an unsustainable high. The central bank had since the first half of 2009 warned banks against parking excessive money in stocks.
Some officials of the Securities and Exchange Commission, stockmarket leaders and influential businessmen piled pressure on the BB to let the banks pour money into the stockmarket.
A total of 47 banks made operating profits of Tk 16,486 crore in 2010, with Tk 2,504 crore coming from the stockmarket, according to the central bank statistics.
The BB discourages the banks from any risky investment in an effort to cut credit growth, the high official of the central bank told The Daily Star yesterday.
As part of its overall monetary policy, the central bank takes steps to bring down credit growth to control soaring inflation, the official said.