Huge rush for trains as transport strike on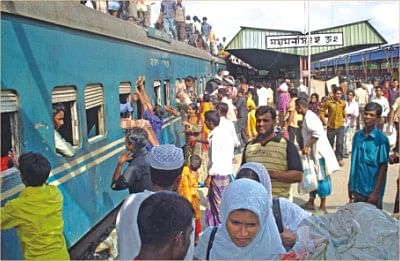 With no buses running between Dhaka and Mymensingh, people in their hundreds gathered on the Mymensingh Railway Station platform for trains to Dhaka.
The indefinite suspension of bus service, called on Thursday protesting the appalling condition of the Dhaka-Mymensingh highway at Gazipur, left people with almost no other option but to use the train.
The platforms at Mymensingh Railway Station were seen packed with travellers waiting patiently for trains. Many told The Daily Star that they demand special trains and more carriages since the trains were inadequate in number. Delays of trains were not helping the situation either and getting tickets have become a challenge.
Station sources said the rush of passengers is several times higher than they are capable of dealing with. Only 350 seats are allocated for passengers of Mymensingh on four intercity trains that stop at the town.
However, the station manages to deal with 1,500 passengers on a regular basis. But since the buses went off the roads it has to deal with 3,500 passengers, said Abul Kalam Azad, superintendent of the station.
Around yesterday noon, hundreds of passengers were seen waiting for Balaka Express at the station.
Shahjahan Alam, a businessman, claimed that he had been waiting on the platform for three hours with no sign of the train.
Some passengers said a ticket for Dhaka on Balaka Express costs Tk 40 but scalpers were selling them for Tk 100.
Dewan Siraj, who was supposed to see a doctor in Dhaka, said he got the appointment after a four-month wait but he has missed it.
Abul Kalam of the station said they have provided special security measures for passengers since people are on the platforms round the clock. He was of the opinion that special trains would get him out of this pickle.
Meanwhile, Station Master Kamruzzaman of Kamalapur Railway Station in Dhaka said the number of people heading for Mymensingh on trains has increased by 10-15 percent. He said he was surprised to see people, who appear to be well off, trying to get on local trains heading for Mymensingh as they could not get a ticket for direct trains.
The bus owners of Mymensingh, Jamalpur, Sherpur, Kishoreganj and Netrakona suspended their services Thursday saying that the condition of Dhaka-Mymensingh highway at Gazipur was too bad to continue running their vehicles.
Mymensingh Transport Owners Association sources said over 400 vehicles run between Dhaka and Mymensingh every day but since the rainy season began it has become very difficult to run buses on this route. The running and maintenance cost of vehicles have shot up due to plying on the road which has ditch-size potholes, they claimed.
Only a two-kilometre stretch of the highway at Gazipur is the cause of all the trouble, said Momtaz Uddin, president of the association, blaming the government for not taking steps to fix the highway in time.