Photo, painting exhibition at RU marking World Indigenous Day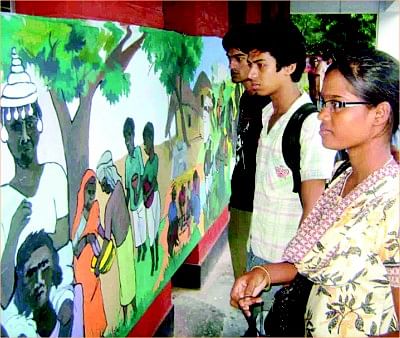 Students of Rajshahi University (RU), representing the ethnic communities, organised a day-long photo and painting exhibition on the campus to mark World Indigenous Day on August 9.
Adibashi Students Association of Rajshahi University (ASARU), a body of ethnic minority students of the plane land, organised the exhibition at the university central library premises.
A total of 150 photographs and paintings on the lifestyle and traditions of the ethnic communities of plane land in the country were put on display at the exhibition.
Professor Golam Sabbir Sattar, student adviser of the university, inaugurated the photo exhibition at around 10am.
Addressing at the inaugural session, leaders and activists of ASARU called upon the government to take steps to include a provision in the constitution recognising the ethic communities as 'adibashi' (indigenous).
Sujon Chandra Singha, president of ASARU, said that they should be declared as 'indigenous' but the present government declared them as 'ethnic minority' in the constitution.
ASARU secretary Khokon Buskey; convener of the exhibition, Suvas Chandra Pahan and other leaders of ASARU spoke on the programme.
A large number of visitors including students and teachers enjoyed the photographs and paintings and wrote several comments on the programme's notebook -- most of which urged the government to take steps to recognise the ethnic minorities as 'adibashi'.