PBS officials sued for felling roadside trees in Sylhet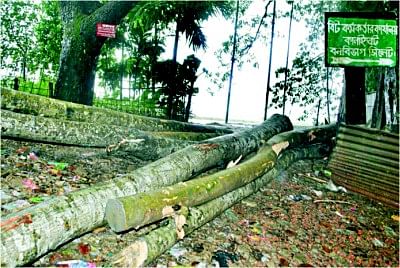 Forest officials on Monday afternoon filed a case against the deputy general manager (DGM) and other officials of the Sylhet Palli Bidyut Samity (PBS) on charge of felling roadside trees illegally.
Beat officer Maruf Billah filed the case against PBS DGM Tajul Islam and two others accusing them of felling about 50 trees on the Gazi Burhanuddin Road (Sylhet-Kanaighat Road) without consulting the beneficiaries or the forest department.
Sources said, the trees were planted in 1994-95 under the social afforestation programme of the forest department.
As the programme was implemented through local beneficiaries, they are supposed to get share of the sale proceed of the trees.
Being informed, the forest officials and others including the beneficiaries went to the site and asked the PBS men to stop felling trees. But they not only ignored their request but also misbehaved with them, sources said.
Later, the social afforestation committee vice-president Helal Ahmed filed a written complaint with the Kanaighat PS claiming Tk50 lakh compensation and accusing Tajul Islam and others.
After that, beat officer Maruf Billah and others recovered some of the felled trees. A police team also visited the site.
However, DGM Tajul Islam refuting the allegations said that branches of some trees were just trimmed for ensuring smooth power supply.