<i>Birthday in tears</i>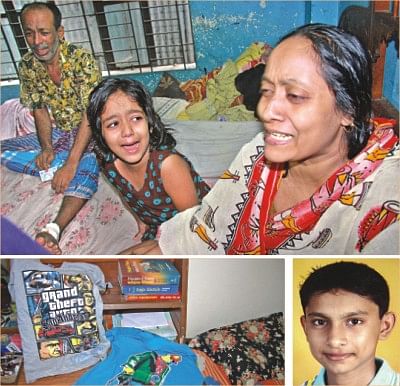 His sister bought two T-shirts and was planning to order a cake for his 19th birthday. The family made all the preparations to give him a surprise.
But the home that was supposed to have a birthday party yesterday turned into a home of mourning.
Tipu Sultan, one of the six students beaten to death by a mob early on Monday at Keblarchar in Aminbazar, was only hours away from his 19th birthday.
"We didn't tell him anything, as we wanted to surprise him," said his sister Anar Koli, a Dhaka University student.
"What am I going to do with these T-shirts?" she said, sobbing.
Tipu's mother Kazi Nazma Sultana has become speechless. She did not say a single word to the journalists who went to their Shyamoli residence yesterday.
"Since Tipu was the youngest [among two brothers and a sister], my mother often fed him with her own hands," said Sheikh Farid, Tipu's elder brother.
Teachers and several hundred students of Tejgaon College formed a human chain in front of the college protesting the killing of Tipu, a first year student of management department of the college. They called for punishment of his killers.
College Principal Prof Abdur Rashid told The Daily Star that Tipu was an innocent boy.
Tipu's friends from Government Bangla College also formed a human chain and held a rally in front of the college.
"On his birthday, we demand punishment of his killers," said Sumon Mahmud, his friend from the college.
Tipu had a good singing voice and aspired to release an album, he added.
Bangla College Principal Prof SM Mokfur Hossain said three of his students -- Ibrahim Khalil of accounting department, Towhidur Rahman Palash of physics department and HSC student Kamruzzaman Kanto -- were victims of brutality of the society.
"None of my boys were robbers. They never got involved in any kind of criminal activities," he said. "We want proper investigation so that the actual fact is unearthed paving the way for justice."
Meanwhile, Bangladesh University of Business and Technology (BUBT) student Shitab Zabib Munib was buried at his ancestral village Moklespur under Biral upazila of Dinajpur yesterday morning, reports our Dinajpur correspondent.
Hundreds of people, who came to take part in his burial, could not hold back their tears seeing his thrashed body.
"I wouldn't have let my son go for his Shab-e-Barat prayers, had I known he would return dead," his mother said. "My son was innocent; he has never done anything wrong."
Meanwhile, villagers of Shanila under Bera upazila of Pabna were thunderstruck after the body of Shams Rahim Shamam, 17, an A level student of Maple Leaf International School, reached on Monday, reports our Pabna correspondent.
He was buried on Monday night.
"Why was my son killed in this way? He was one of the brilliant students in his school and he was not involved in any crimes. I want justice," his father Aminur Rahim said.