A simple solution to save children's lives
Recently, there is new cause for optimism — children in developing countries will finally get access to the same life-saving Rotavirus vaccines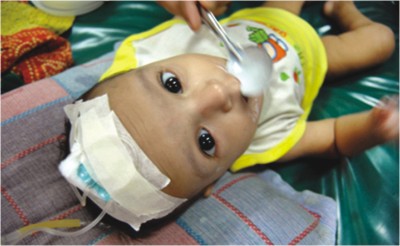 Every year, hundreds of thousands of children in Bangladesh are brought to the hospitals because of a simple disease diarrhoea with a devastating impact. Rotavirus is the leading cause of severe diarrhoea and one of the most easily preventable public health challenges we face today.
Rotavirus kills more than 500,000 children under five around the world each year — almost 1400 deaths each day. In Bangladesh alone, Rotavirus is responsible for more than 16,000 deaths each year. Rotavirus attacks our families and threatens our nation's future by targeting our most precious resource — our children.
The true tragedy is that — much of this deaths and sufferings could be prevented if children had the access to life-saving vaccines. In the United States, Rotavirus vaccines have been widely available for five years, even though the disease only killed a handful of children a year when they were introduced. Here, where the need is much greater, there is hardly any option for the vast majority of children.
The major challenge is — Rotavirus vaccines are highly expensive for a poor country like ours, where health resources are scarce. And donors have been hesitant to support the vaccine until the cost came down.
Recently, there is new cause for optimism — children in the developing countries will finally get access to the same life-saving Rotavirus vaccines. On June 6, the GAVI Alliance, an international organisation that supports vaccination in low-income countries, announced that a significant price reduction for Rotavirus vaccines had been offered from a pharmaceutical company that will lower the cost to US$2.50 a dose, a third of the previous low price. GAVI already supports introduction of life-saving vaccines in Bangladesh, and now plans to provide financial support for Rotavirus vaccines.
This is great news for Bangladesh and anyone in the South Asia, where Rotavirus is an all-too-commonly accepted part of life. In fact, the World Health Organisation (WHO) strongly recommends including Rotavirus vaccine in all immunisation programmes because of its potential life-saving impact.
Vaccines alone will not rid the world of Rotavirus or solve all of our persistent health problems. Alongside. we need to focus on long-term challenges such as improving sanitation, increasing the availability of Oral Rehydration Saline and strengthening health system. Yet, ensuring access to Rotavirus vaccines is a simple but important commitment that can save thousands of lives starting today.
Children are suffering and dying needlessly, whereas there is tool for combating the disease. It requires only our sincerity and willingness to save millions of lives. Governments, donors and manufacturers — all have a crucial role to play.
The writer is a Senior Scientist and
Epidemiologist working in ICDDR,B.
E-mail: kzaman@icddrb.org