Big Fair Of Huge Fishes In Moulvibazar
240kg Baghair steals the show, sells at Tk 90,000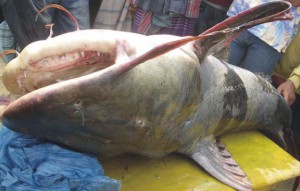 Nasir Mian demanded Tk 1,20,000 for a Baghair and sold the 240 kg fish at Tk 90,000. It was netted from Kushiyara river.
He sold a Boal at Tk 35,000 and a Chitol at Tk 17,000.
Nasir brought big indigenous sweet water fishes worth about Tk 12 lakh at the century-old three-day traditional fish fair at Sherpur in Moulvibazar that ended yesterday.
It began on the last day of Bangla month of Poush following a Hindu religious traditionPoush Sankranty. Hindus take good dishes prepared with fish and vegetables on the occasion.
The traditional fair attracts buyers and sellers from greater Sylhet district and beyond. Hindus and Muslims alike from far away places attend the fair held amid festivities.
This year, about 2000 fish traders came to the fair from different districts with local varieties of sweet water fishes of huge size. Big size fishes like Boal, Ayir, Chital, Ruhi, Katla, Koi, Magur etc were great attractions for fair goers, particularly children and youngsters, who never saw and could imagine the rich fish resources Bangladesh could have.
Fish trader Chhikon Miah said he brought fishes of Tk 1.5 lakh from Kazirbazar in Sylhet.
Earlier, the fair spot was at Monumukh, where Monu and Kushiyara rivers met. As Monu devoured Monumukh, the spot was shift to Sherpur on the bank of Kushiyara.
Arbesh Miah netted a Chital from Hahaluki Haor and sold it at Tk 17,000 at the fair.
This year, the district administration auctioned the fair spot at Tk 7,00,000.
Fishermen came to the fair with fishes caught from Monu, Kushiyara, Surma rivers and different haors and water bodies in greater Sylhet and Kishoreganj regions.
The district administration took special security measures to maintain law and order and did not allow anti-social activities like gambling at the fair.