People suffer as road to pontoon washed away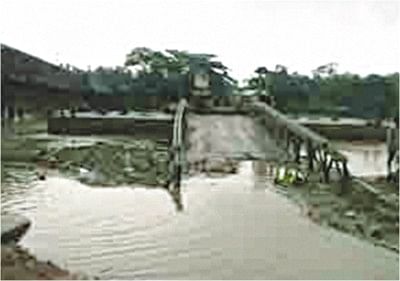 Road communications between Netrakona town and eight upazilas of the district have snapped on Sunday as onrush of water from hills across the border damaged a portion of the road linking pontoon bridge on the Kongsha River at Thakurakona under Sadar upazila.
The road was constructed following collapse of the 120-metre-long bailey bridge on the river at this point on November 9 in 2010. The bridge collapsed under heavy pressure of two goods-laden trucks.
The situation has caused untold sufferings to a large number of people including office staffs, businessmen and students. They are now crossing the river by boats.
Contacted, an official of the Roads and Highways Department (RHD) said although they are aware that people of the eight upazilas are facing serious trouble due to disruption of the road communication, it will not be possible to place the pontoon bridge within next one month due to rising of Kongsha water level.
Uttam Kumer Dey, assistant engineer of Netrakona RHD, told this correspondent that they are unable to make an alternative means of communication shortly. He said it was not possible to start ferry service as engine of the ferry went out of order.
Roads and Highway Department sanctioned Tk 4.53cr for repair of the bailey bridge and assigned a contractor to do the job which is likely to be complete by September this year, RHD sources said.