Dredging of river route to Mongla port stalled again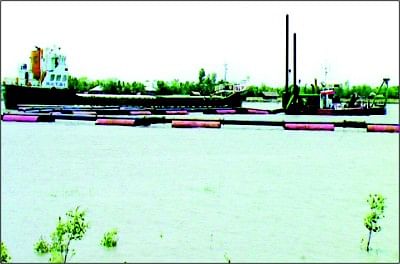 Dredging on 31-kilometre-long river route between Mongla and Ghoshiakhali, a channel that shortens distance to Mongla port, has remained suspended since early June, only one and a half months after start of the second phase of work.
The route is facing navigation problem as silt carried by Pashur and Baleshwar rivers during high tide fast settles in Rampal River of Bagerhat district, said sources of Bangladesh Inland Water Transport Authority (BIWTA).
If Mongla-Ghashiakhali river route is closed down, it will leave negative impact on the entrance of local and foreign ships to Mongla Port, affecting the country's economy, especially in the south-western region.
The authorities took a project to remove seven lakh cubic feet of silt deposit caused mostly due to existence of fish enclosures, embankments and illegal structures along the channel, said BIWTA sources.
The government allocated Tk 14 crore for the purpose, said Habibun Nahar, lawmaker elected from Bagerhat-3 (Mongla-Rampal) constituency.
Accordingly, BIWTA started dredging right from Rampal River in April last year but the work was suspended the next month as it did not bring any fruitful result.
BIWTA resumed the dredging on April 18 this year but it again failed to achieve the desired result and the work was suspended after one and a half month, said Md Maruful Alam, superintending engineer of BIWTA.
Under the circumstances, BIWTA authorities organised a meeting on June 6 this year at Rampal upazila parishad auditorium to exchange views with cross sections of people about various impediments to the continuation of dredging work.
Talukder Abdul Khaleque, mayor of Khulna City Corporation, Md Abdul Malek, chairman of BIWTA, Dr Mominul Huq, deputy executive director of Centre for Environment and Geographic Information Services, an experts' organ under the water resources ministry assigned to oversee the effectiveness of dredging in the river route, and Md Akram Hossain, deputy commissioner of Bagerhat attended the meeting, among others.
Speakers at the meeting opined that early removal of embankments, shrimp enclosures, unauthorised structures and eviction of illegal occupiers on the Ghoshiakhali-Mongla river routes will positively contribute to the implementation of the dredging project by removing the impediments to water flow.
Mongla-Ghoshiakhali canal route was first excavated in 1974 to reduce distance to Mongla port, said the superintending engineer of BIWTA.