Homage to Tagore in Dinajpur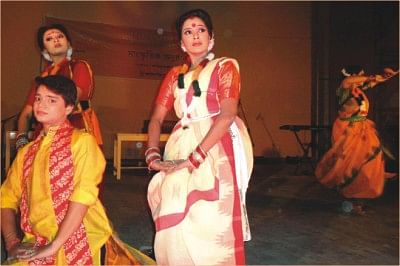 Singers and dancers from Dhaka entertained the audience here at Dinajpur Shilpakala Academy on June 27. The event celebrated the 150th birth anniversary of Rabindranath Tagore. Bangladesh Shilpakala Academy had organised the programme. Residents of Dinajpur braved the bad weather to attend the programme.
Md. Jamal Uddin Ahmed, Deputy Commissioner of Dinajpur, inaugurated the programme as chief guest. Md. Mostafizur Rahman, Police superintendent (acting) of Dinajpur, was also present at the programme.
Addressing the gathering, Md. Jamal Uddin Ahmed said that the literature and creations of Rabindranath Tagore are parts of the lifeline of Bengali culture.
The programme began with a Tagore song "Ami Ki Gaan Gabo Je" performed by Anusree Bhattacharya. She rendered three Tagore songs dedicated to the bard, accompanied by musicians from Dhaka.
Dancers from Dhaka drew the attention of the audience with their unique costumes and impressive performances. The dances were directed by Farhana Chowdhury. Ujjal recited poems of Tagore.
The programme wrapped up with three Tagore songs performed by Nargis Chowdhury of Dhaka.