Gayoom for accelerating regional ties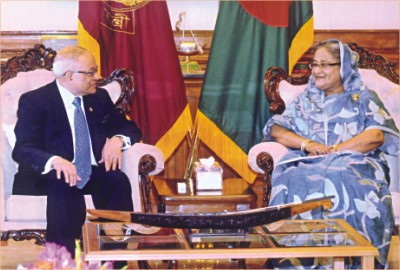 Former president of the Maldives Mamun Abdul Gayoom yesterday urged the South Asian leaders to find new ways of accelerating regional cooperation for achieving the goals of South Asian Association for Regional Cooperation (Saarc).
"We have to be practical and have to cordially understand what potentials we have and how best we can utilise the potentials," he said.
The leaders of Saarc should not have such dreams and ambitions that cannot be realised, he said, adding that they must be practical.
The former president of Maldives was speaking at a press conference at a city hotel organised by University of Science and Technology of Chittagong (USTC).
Mamun Abdul Gayoom arrived here on Sunday on a four-day visit at the behest of USTC. During his visit, he will attend the university's fourth convocation to be held at Bangabandhu International Convention Centre on June 29.
The former president said the Saarc countries have not been able to achieve the goals of Saarc yet because of many problems.
"We set very high goals of ourselves and we have been able to achieve some of the goals not all because of many resources and other technical problems," said Gayoom.
But, he said, that does not mean Saarc has failed. "It [Saarc] is going ahead," he said, hoping that the regional cooperation will have a great future.
About the ways to strengthen the regional cooperation, he said that the top leaders of Saarc have to have more commitment and dedication to accelerate the regional cooperation.
He said the private sectors of these countries have an important role to play in this regard.
"There must be more cooperation among the private sector of the Saarc countries," Gayoom added.
The former president gave a picture of educational situation of Maldives and also spoke about the issues like climate change, manpower, and his foundation named Mamun Foundation that focuses on higher education, health care, environment, empowerment of women and promoting Islam.
About higher education, he said education is the basis of all development as it is not possible for any country to be developed without it.
"Higher education is a must for us, for our development and to be able to face the challenges of twenty first century and globalisation and to solve socio-economic problems," he added.
About climate change, Gayoom said it is a global problem and thus the solution is also global.
"We must address the real causes of climate changes," he said.