In search of the memory molecule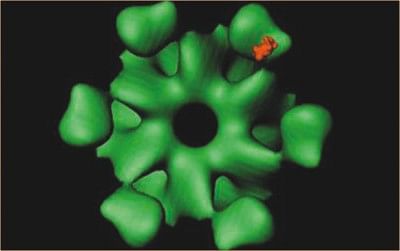 Have a tough time remembering where you put your keys, learning a new language or recalling names at a cocktail party? New research from the Lisman Laboratory at Brandeis University points to a molecule that is central to the process by which memories are stored in the brain.
A paper published in the June 22 issue of the Journal of Neurosciencedescribes the new findings.
The brain is composed of neurons that communicate with each other through structures called synapses, the contact point between neurons. Synapses convey electrical signals from the "sender" neuron to the "receiver" neuron. Importantly, a synapse can vary in strength; a strong synapse has a large effect on its target cell, a weak synapse has little effect.
New research by John Lisman, professor of biology and the Zalman Abraham Kekst chair in neuroscience, helps explain how memories are stored at synapses. His work builds on previous studies showing that changes in the strength of these synapses are critical in the process of learning and memory.
"It is now quite clear that memory is encoded not by the change in the number of cells in the brain, but rather by changes in the strength of synapses," Lisman says. "You can actually now see that when learning occurs, some synapses become stronger and others become weaker."
But what is it that controls the strength of a synapse?
Lisman and others have previously shown that a particular molecule called Ca/calmodulin-dependent protein kinase II (CaMKII) is required for synapses to change their strength. Lisman's team is now showing that synaptic strength is controlled by the complex of CaMKII with another molecule called the NMDAR-type glutamate receptor (NMDAR). His lab has discovered that the amount of this molecular complex (called the CaMKII/NMDAR complex) actually determines how strong a synapse is, and, most likely, how well a memory is stored.
"We're claiming that if you looked at a weak synapse you'd find a small number of these complexes, maybe one," says Lisman. "But at a strong synapse you might find many of these complexes."
A key finding in their experiment used a procedure that reduced the amount of this complex. When the complex was reduced, the synapse became weaker. This weakening was persistent, indicating that the memory stored at that synapse was erased.
The experiments were done using small slices of rat hippocampus, the part of the brain crucial for memory storage.
Lisman assembled a large team to undertake this complex research. A key collaborator was Magdalena Sanhueza, who once worked with Dr. Lisman at Brandeis, and her student, German Fernandez-Villalobos, both now of the University of Chile, Department of Biology and Ulli Bayer of the University of Colorado Denver School of Medicine, Department of Pharmacology, who developed CN19, a particular form that could actually enter neurons.
Others involved include Nikolai Otmakhov and Peng Zhang from Brandeis and Gyulnara Kasumova, who worked in the Lisman laboratory for several years as an undergraduate. An additional group contributing to the work was that of Johannes Hell, Professor of Pharmacology at the UC Davis School of Medicine. He and his student, Ivar S. Stein, used immunoprecipitation methods to actually show that the CN19 had dissolved the CaMKII/NMDAR complex.
Source: Science Daily