Recount of votes demanded, cop accused of flouting code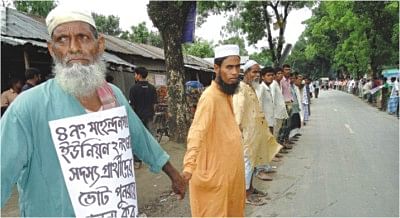 A human chain was formed on Lalmonirhat-Rangpur road in Lalmonirhat Sadar upazila yesterday demanding a recount of votes of Nizpara Government Primary School polling centre under Mohendra Nagar Union of the upazila.
Meanwhile, a police officer has been accused of violating election code of conduct in Lohagara upazila of Narail district.
Our Lalmonirhat correspondent reported that around 1,000 voters from five villages joined the human chain organised by nine defeated member candidates in the morning.
The participants alleged that elected member Khazir Uddin manipulated the election results with the connivance of presiding and polling officers of Nizpara Government Primary School centre on June 19 and snatched the victory of his rival candidate Jahangir Alam.
Mominul Islam Babu, one of the nine defeated member candidates, alleged that Khazir Uddin bribed the presiding and polling officers who declared him elected.
"After two days of election, local people found 300 ballots having seal on symbols on a jute field near Nizpara polling centre," the defeated member said, adding that Khazir Uddin was elected member of ward No 2 through ballot paper forgery.
Contacted, Upazila Election Officer Jahangir Alam Rakib said he knew nothing about the abandoned ballots.
Upazila election office sources said 10 people contested for the member post. Khazir Uddin secured 711 votes while and his nearest candidate Jahangir Alam got 511 votes.
In Narail, election code violation charge was brought against a police officer by six chairman aspirant of Nowagram Union Parishad in Lohagara upazila, reports our correspondent.
In a written complaint submitted to the returning officer on Friday, the chairman candidates alleged that Md Enamul Haque, officer-in-charge of DB Jessore, arranged meetings at Brahmandanga Bazar, Raigram, Bottola and Kolagachhi Bazar on Wednesday and Thursday to woo votes for his younger brother Foyzur Haque Rome, also a chairman candidate, violating code of conduct.
Contacted, Returning Officer Arun Kumar Mondol said necessary action will be taken against the person responsible for violating election rules after proper investigation.
Refuting the allegation, Md Enamul Haque said he went to village home to see one of his ailing cousins.