<i>Cannons used by Mujib Battery arrive</i>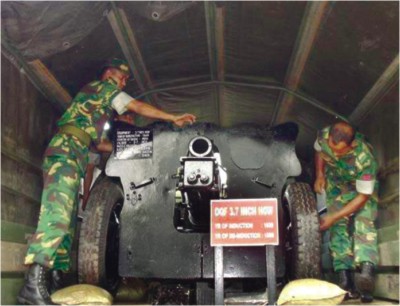 The Indian government yesterday handed over to Bangladesh two cannons used by the "Mujib Battery" during the 1971 Liberation War as a gesture of goodwill.
The cannons entered Bangladesh through Benapole land port in the afternoon.
A 15-member team headed by captain of the artillery unit of Jessore Cantonment Major Morshed received the cannons from a 12-member Indian Army delegation led by Major Ariar, captain of the artillery force.
Two trucks of Bangladesh Army carrying the cannons had already left Benapole for Dhaka.
The first artillery unit of Bangladesh Army was formed on July 22, 1971 in Konaban of India with six cannons (3.7 inch Howitzers) including the two presented by India. The newly formed artillery was named after Bangabandhu Sheikh Mujibur Rahman.
The Mujib Battery took part in the Liberation War under the "K Force" in Sector-2 and used the cannons in the battlefield.
Visiting Indian Chief of Army Staff Gen Vijay Kumar Singh is likely to present the cannons formally to his Bangladesh counterpart Gen Mohammad Abdul Mubeen at a convenient time.
Commissioned in the Rajput Regiment in 1971, General Singh had taken part in Bangladesh's War of Liberation and was part of operations in several areas including Feni and Cox's Bazar.