Districts in Focus
Rajshahi Silk Losing Shine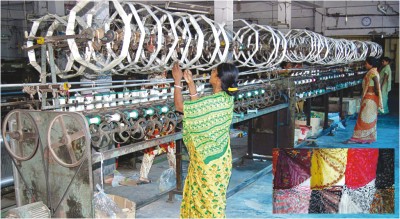 Rajshahi silk is a famous name in the domain of clothing, especially in saris. Silk is a delicate and soft fibre produced from the cocoons of silkworms and is covered with a protein called sericin.
Saris and other products made out of Rajshahi silk are coveted by users in the country and abroad. Rajshahi silk is available as fabric in colours and patterns for designers. Silk fabric is available in ranges for apparel and for other purposes.
Rajshahi houses a number of silk industries. The region's sericulture accounts for almost the entire silk output of Bangladesh.
But the past glory of silk is fading fast due to a lack of government support, although private sector silk industries have created many jobs in the country, including Chapainawabganj, Rajshahi, Naogaon and Bogra districts, in the last eight years. Like other state-run organisations of its kind, Rajshahi Silk Factory had to close its operations in 2002 for a lack supervision and proper planning. But many private silk companies, including Sopura Silk Mills Ltd, are successfully running their operations countrywide. The seven factories in BSCIC Industrial Town in Rajshahi have created 15,000 different kinds of jobs, whereas Sopura alone created 10,000 direct and indirect jobs, in several northern districts and in the capital.
Barsha, 19, of Dargapara area in Rajshahi district, engaged herself in Sopura Silk Mills seven years back.
"I had to join the mill leaving my studies about seven years ago for a living for my family," said Barsha. She has to spend all her earnings for the three-member family.
Another worker, Anjuara Begum, 45, has been working in the mill since 1995. Starting with a salary of Tk 500 a month, she now gets Tk 1,600 a month. "I was a simple housewife before joining the company. Now I maintain my family with my own earning."
Uttam Kumar, 35, joined a showroom of Sopura Silk Mills as cashier around eight years ago. He has a family of five members. "The company appointed many staffs like me in its five showrooms in Rajshahi, Dhaka and Chattagong," he added.
Abdul Aziz was a sericulture board official. The 60-year-old said: "After retiring from my service in the board, I decided to do something to earn a smooth living and joined a showroom of the mill six months ago."
Thirty-two staffs work in the showroom, said Aziz. The company's Sonadighi showroom has two staffs, he added.
Two state-run silk factories, Rajshahi Silk Mills and Thakurgaon Silk Mills, have to face closure in 2002, dislodging over 350 employees, said an official of Rajshahi Silk Mills Labour Union.
"Wide-scale corruption, faulty planning and a lack of supervision were responsible for the shutdown," said Md Ataur Rahman, former president of Rajshahi Silk Factory Labour Union.
The extension programmes of different units of the factories are still going on although those were closed in 2002, said Rahman. "It's nothing but corruption."
Md Alauddin, former founder president of Silk Board Trade Union, raised questions about the allocation of funds that the government is still providing for research and extension programmes for the silk factories that are not functioning.
"There were nearly four lakh growers before 2002 in the country, but the number has now come down significantly," said Rahman.
At least 10 lakh people were involved in silk industries in Bangladesh before 2002, said local journalist Akbarul Hasan Millat.
Millat said: "String import from China and other countries was allowed then, which made the local products less competitive, and brought the industries on the verge of closure."
The country produced 300 tonnes of strings a year before 2002, he said. Now 50 tonnes of strings are produced countrywide, he added.
"Bangladesh has the potential to produce more than 300 tonnes of strings every year. But for that the country has to utilise its resources wisely," Millat said.
The government started silk production in Rajshahi in a 20-hectare factory spending Tk 15,000 in 1952, he added.
The sector leaders recently put forward seven-point recommendation to the government for a facelift of the sector.
Md Abu Selim, president of Bangladesh Silk Board Employees League, said: "The government has to ensure 500 tonnes of annual string production for smooth running of the silk factories, and provide soft loans to farmers."
The leaders also demanded employing women workers in around 95 percent jobs in the sector for ensuring women empowerment in the country.