Rekha: A Timeless Enigma, Full of Grace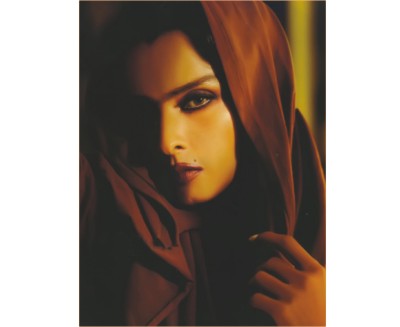 At 50 plus, like a prime time soap opera, Rekha still gets viewers in a tizzy. In short, she has kept her audience hooked, both on and off the screen, even before it became fashionable to be 'divaesque'. While acres of newsprint have been written about her legendary beauty; turn to her performances, and the critics have been floored each time she out-does their expectations. Rekha has been Bollywood's first real superstar in the times when women played only the mandatory love interest of the heroes. How does she stay in-tune with the times? She admits it is the consistency and originality, and maintaining a balance between the two equations that keeps her going. Personifying existential wisdom... that's Rekha. She's still big... It's the movies that got smaller...
How did her journey with the movies begin?
Rekha: I never planned on being an actress. My parents were actors and travelled the world. I too wanted to travel and explore new facets of myself, so I thought I would be an air-hostess. I grew up in Chennai, studied in a convent school with Irish nuns. I was completely fascinated by them and even wanted to become one. I was a loner. My mother wanted me to become a great star and to reach out to everyone in India. Little did she know, with her blessings, I've managed to touch the heart of every Indian across the globe.
Dream role…
Rekha: I've had the good fortune of playing almost all the typical Hindi-film-heroine types of roles. A village belle in "Sawan Bhadon", a mischievous girl-next-door in "Khoobsoorat", an abuse victim in "Ghar", a courtesan in "Umrao Jaan", a devoted wife in "Sada Suhagan", a doting mother in "Judaai", an eternal romantic in "Silsila", a wronged woman seeking revenge in "Khoon Bhari Maang", a vamp in "Khiladiyon Ke Khiladi", a misguided and gullible simpleton in "Aastha", and now my latest film, which is aptly titled "Aaj Phir Jeene Ki Tamanna Hai", where I play a woman of the world. My ultimate dream would be to play any role opposite Dilip Kumar.
What does she think of this generation of actors?
Rekha: All the new breed of actors from star families or otherwise are very skilled in their craft from their very first film. They are experts at multi-tasking, they are business savvy, they know how to market themselves and what's more, they really know how to handle the media. Personally, my favourites are -- Duggu (Hrithik Roshan), Ranbir Kapoor, Salman Khan, Abhishek Bachchan, Shah Rukh Khan, Kajol, Rani Mukerji, Priyanka Chopra and Vidya Balan.
"Rekha" has forever been wrapped in an aura of mystery, why?
Rekha: What mystery? The media is the one that creates this image. It's just that I am basically shy by nature, an introvert and fiercely private. I live on my own terms and make my own rules. My principles of "Rekha-ism", if you please, don't feel the need to announce every incident that transpires in the course of the day. Sorry, but I am not that little birdie that "twitters". But of course I've lived many lifetimes in one and shall share the experiences in my own unique way, all in good time.
Why did she decide to dub for other actors, like for Neetu Singh, Smita Patil and Sridevi?
Rekha: As a child in school, I was called the "clown of the class", and my mimicry had my family and friends in splits. That's how I first discovered this talent to make people laugh. I was a podgy child. My friends used to tease me and called me "baby elephant". Though it hurt me, I chose not to take it personally. I later used my interest in mimicry to dub for my friends when they required me to, like when Neetu got married, I did the needful and thoroughly enjoyed it, and Smita Patil's "Waaris", I did as a tribute to her both as a fine person and a superb actor.
For actors doing commercial cinema, art films are usually a complete 'no'. What made her take the path less travelled and balance it well alongside the commercial cinema?
Rekha: I must confess that back then I barely knew the difference and wasn't familiar with the term "art house". All I can say is that I was the chosen one and I couldn't be more thrilled about it. Like a rose is a rose, a good role is a good role and it can become a great one... and "Umrao Jaan" is a testimony to this.
What's the secret to her seemingly timeless beauty?
Rekha: It's no secret, really! I am a spontaneous person. There is no end to the fruits of spontaneity. I've always believed that I am an old soul, captured in a timeless body -- not an ageless one. I don't give importance to physicality. Real beauty is what happens naturally, when you don't plan for it. The minute you have to make an effort, or are conscious about it, it vanishes. You are a product of your environment.
On being a style icon…
Rekha: I don't know about being a style icon. This generation doesn't have many personalities. Ours had tons. My strong role models include my mother, Lata Mangeshkar, Asha Bhosle, Meena Kumari, Nargis Dutt, Gayatri Devi, Indira Gandhi, Mother Teresa, Jennifer Kapoor, Sophia Loren, Tina Turner and even a Bai (domestic worker), who works at 10 different homes, takes care of her kids and drunk husband, but always has a smile on her face, glowing skin and long hair. It's a question of character! These days it is virtually impossible to store all the clothes people buy. Most of what they wear is sourced from designers, who want their clothes to be shown on stars. So, I guess it works both ways. But I only go out a few times a year, that too for formal functions. So I reinvent my existing sarees with a new twist. I've always designed my own clothes and known exactly what suits me. Also, I am very fascinated by my South Indian roots, and am very proud of it. Hence, I'm seen in Kanjivarams on most occasions.
The ideal man?
Rekha: The ideal man is equally man and woman. I wish every man tapped into his feminine side to understand women. The reason we are attracted to the other side, is because we have it within us. We just have to acknowledge that part of us.
The one question I am often asked is: "why are you still single? To that I would say, if it is meant to be, it will. As long as there is life, there is hope. The truth is only I know how to woo me, so if and when I find someone who can read my mind, then... we shall see!
Compiled by Correspondent