Contribution of Pritilata recalled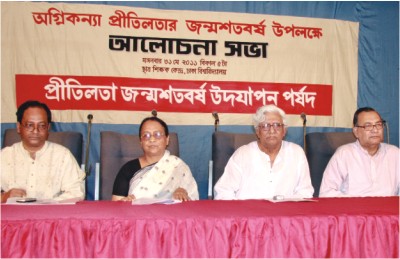 Speakers at a discussion yesterday demanded celebration of all the important days during the anti-British movement with state recognition.
They demanded sculptures and monuments in the name of the revolutionaries during the anti-British movement and naming of educational institutions, roads and bridges after them.
The demands came at a discussion observing the 100th birth anniversary of Pritilata Waddedar at Teacher-Student Centre Auditorium of Dhaka University.
Pritilata Janmashatabarsha Udjapon Parshad organised the discussion.
"We should not just keep our focus on the war of liberation as a time when we faced oppression. Our nation has faced oppression even before the liberation war during British reign," said Mujahidul Islam Selim, general secretary of Communist Party of Bangladesh.
"In the present context, the examples set by Pritilata Waddedar so many years ago is very much relevant," he said.
Writer Selina Hossain said calling Pritilata a revolutionary woman would be an understatement.
"She is a power, and an ideal for every woman," she said. "These days, if any young woman makes it to the army, we feel proud and pompous. But back in 1931, such a young lady became a member of the Indian Republic Army. That was a huge achievement."
Cultural personality Kamal Lohani chaired the programme while Professor Biswajit Ghosh presented the keynote paper.