It's political instability, not climate
Evans on Bangladesh's biggest threat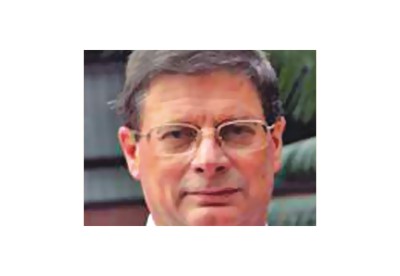 British High Commissioner in Dhaka Stephen Evans yesterday said the biggest threat to Bangladesh is not climate change but political violence and instability.
"The biggest threat is not climate change…biggest threat is violence and instability. Political mistrust and the threat of confrontation run deep. The country can not afford to return to the politics of deep-seated division and violence of the past," he said in a statement during talks with Diplomatic Correspondents' Association, Bangladesh (DCAB) at the Jatiya Press Club.
Stephen Evans said he has repeatedly conveyed to all political parties over the past three years strongly encouraging the government and the opposition to engage in constructive politics and resolve issues through dialogue.
The outgoing British high commissioner said security, sustainable democracy and prosperity are essential for Bangladesh to achieve middle income status by the next decade.
However, he said, "Corruption and misuse of funds remain a major threat and strongly impede the country's social and economic development." In this context, he said corruption is a significant problem here and it needs to be addressed.
When asked about the controversy over the Anti-Corruption Commission (ACC) reforms, Evans said corruption cases should be dealt in even-handed way on evidence-based approach.
Replying to a series of questions on debate over Rab, Stephen Evans for the first time admitted that the Rapid Action Battalion is not always respectful to human rights.
When asked whether the British government will continue funding for training of this force, he said the British government conducted training course for Rab to improve its understating and respect for human rights and the outcome of the training is being evaluated.
But he did not say precisely whether they would reopen such training.
Asked about human rights conditions in Bangladesh, he said more work has to be done to improve the situation.
When asked about Leader of the Opposition Khaleda Zia's recent visit to the UK, Stephen Evans said "It was a good visit as she has witnessed how the British parliament functions working with the opposition."
He hoped Khaleda Zia, on her return, would join the parliament session and play effective role by engaging herself in parliamentary debates, scrutinise government policies and make constructive criticisms.
On foreign governments' intervention in internal politics of Bangladesh, he claimed there was no interference from the heads of the foreign missions here during 2006-07 and history was badly distorted. "We only support development here through our development programmes to improve the government capacity for welfare of the people."
About the caretaker system controversy, he said the government, people and civil society would decide about the fate of the provision. However, he hoped the next elections would be fair and peaceful like that of 2008.
Evans said Bangladesh so far has been on the positive track as economic growth exceeds population growth, but significant energy shortages and poor infrastructure, as well as bureaucratic barriers to the investment climate and private sector, continue to hamper economic growth.
"To achieve security and prosperity, Bangladesh needs to have strong independent institutions and a functioning parliament at the centre of political debate," he added.
On aid for fighting poverty in the country, he said the UK government is deciding to almost double its aid in the next four years. "Our spending here will help more than 15 million Bangladeshis out of poverty, but will be extremely carefully managed and wholly contingent upon value for money, guaranteeing transparency and achieving results," he added.
DCAB President Raheed Ejaz presided over the interactions while its General Secretary Abdul Majid made welcome address.