Robbers kill man to loot Uttara house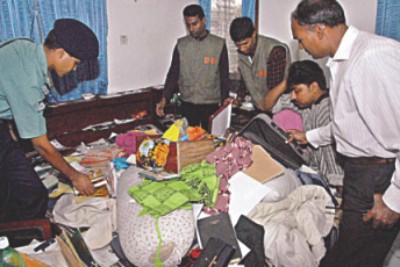 Robbers strangled an elderly man to death and looted jewelleries and cash worth over Tk 8 lakh raiding the Uttara house of film actress Shabnam Parveen in the capital early yesterday.
Father of Shabnam, Syed Shamsul Haque, 60, died during the robbery as the robbers suffocated him, said family members. He came to Dhaka for treatment on Wednesday from his village home in Manikganj.
The dead body was sent to Dhaka Medical College morgue for autopsy.
Shabnam Parveen said at around 1:30am, a gang of around 15 masked robbers broke the lock of the main door and entered her ground floor flat in her four-storey under-construction building located at Sector 12 of Uttara.
The criminals first entered the building using a ladder and then broke the lock of her residence, she added.
"I heard some noise, but I did not bother, thinking that my father or mother was struggling to close the bathroom door," said Shabnam.
"Moments later, a group of the robbers entered my bedroom and started tying the hands and legs of my husband," she said adding that she then rushed to the room where her parents were sleeping and found another group of robbers there.
She requested the robbers not to gag her father's mouth as he needed to breathe through his mouth due to illness, said Shabnam. "The robbers did not pay heed to my request. They dragged me to another room, tied my hands and legs and gagged me as they did to all six other members of my family," she said bursting into tears.
The robbers, all armed with large knives, then threatened the family members with death unless the keys to the almirahs were handed over to them, Shabnam said adding, "Finding no other way, I gave them the keys to all the almirahs."
The criminals then opened the almirahs and looted 35 tolas of gold ornaments, four diamond finger rings, five cellphone sets and Tk 45 thousand in cash.
The robbers even sifted through clothes, beds and garbage cans to make sure no valuable item was left behind.
After taking around two and a half hours to accomplish their mission, the raiders left the building with the main entrance locked from outside.
By the time neighbours from two nearby houses came to know of the incident and untied all the residents of Shabnam's house, her father had already breathed his last.
A case was filed with Uttara Police Station. The police are yet to arrest anyone or recover any of the stolen goods.