The nightmare of flooding
No move to repair dyke in Aila-hit Dakope as stormy days approach fast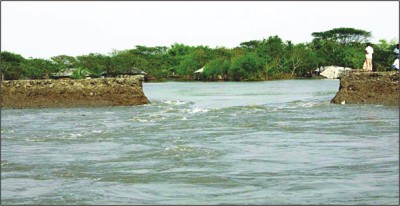 Thousands of people of Aila affected villages in Dakope upazila under Khulna district are passing days amid fear of flooding as no initiative has been taken to repair a 50-kilometre-long embankment that developed breaches during the May 12 nor'wester accompanied by tidal surges.
The embankment may collapse into the turbulent Shibsha River anytime with increase of tidal surge as Khulna district has been experiencing a stormy weather for the last one week, said Dakope upazila parishad Chairman Sheikh Abul Hossain.
The embankment was constructed last year to protect Sutarkhali and Kamarkhola unions of the upazila from further damages to homesteads, cattle, crops educational institutions and village markets.
"The recent nor'wester accompanied by strong tidal surges has caused damage to the embankment. But we cannot take any initiative to repair it due to shortage of fund," said Brojo Mohan Nath, executive engineer of Water Development Board (WDB).
Super cyclone Aila that hit coastal belts of Khulna and Satkhira districts on May 25 in 2009 claimed 193 lives, damaged 2 lakh 43 thousand houses and crops on 97,000 acres of land, according to official reports.
Tidal surges caused under its influence entirely damaged 711 kilometres of dykes in Dakope and Koira upazilas of Khulna district and Shyamnagar and Assassuni upazilas of Satkhira district.
Consequently, saline water inundated 238 villages, rendering 2 lakh 97 thousand people homeless, and woe befell the displaced people of coastal areas under the adverse impact of climate change.
But none of the damaged embankments has been made sustainable in true sense due to corrupt practices of a section of WDB officials, influential men of the ruling party, contractors and shrimp cultivators, said locals.
"It is a matter of great regret that the authorities concerned are yet to take any positive and effective move to mitigate sufferings of homeless people by implementing rehabilitation projects undertaken by the government during last two years," said Dakope upazila parishad Chairman Sheikh Abul Hossain.
Koira upazila parishad Chairman GM Mohosin Reza also echoed the same.
Serious crisis of safe drinking water and medical services are yet to be solved in the four Aila affected upazilas of Khulna and Satkhira districts, they said.