Shrimp farming deals major blow to South
Coastal land in Aila-hit areas turns barren due to salinity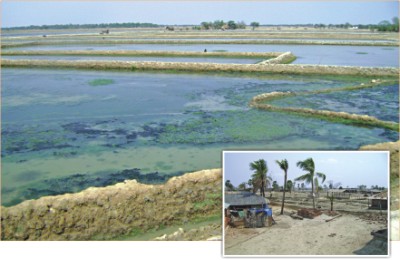 Ahammad Ali Gazi sighed as he surveyed his salt-covered land that once produced rice.
"This is the land where my family grew rice for years," said Gazi, a 60-year-old farmer at Gabura in Satkhira district close to Bay of Bengal. "Today, there is nothing but salt. Nothing else grows here," murmured Gazi, wiping sweat from his sun-burnt face.
The farmer has only himself to blame.
Nearly three decades ago, Gazi, like many farmers in his area, quit rice farming to opt for shrimp cultivation that earned them more money.
Money Gazi has earned. His earning from the business continued until cyclone Aila hit the southwestern part of the country on May 25, 2009.
The entire region was washed away. All the shrimp enclosures were gone.
For about one and a half years, the area remained under saline water until the breaches Aila had created were repaired towards the end of last year.
The saline water has receded after the repair but Gazi is thunderstruck to find that years of shrimp cultivation has brought saline water and salt to his three acres of land making it unfit for any crop. He wonders how many years it might take for the land to recover from the damage, and regain the soil fertility to grow crops like rice.
Lured by short-term gains, farmers like Gazi, who mulls beginning with shrimp business once again, overlooked the long-term losses from shrimp farming: damage to land fertility, drinking water, and environment.
But Gazi and others like him won't be able to resume the business easily with most of the farmers waging resistance against resumption of such a devastating occupation, which multiplied the impact of the cyclone on their lives.
Salinity, caused by growing shrimp cultivation over the last three and a half decades, damaged the soil fertility of more than one million hectares of coastal arable land that could yield 2.5 million tonnes of rice, enough to meet the country's annual food deficit, according to the government's Soil Resources Development Institute.
A recent SRDI study says about three quarters of the land cannot grow rice due to high salt content in the country's coastal districts, mainly in Khulna, Satkhira and Bagerhat.
"Shrimp cultivation has deep relation with the increased salinity," said ecology and biodiversity researcher Pavel Partha.
"Salt water staying in shrimp enclosure for long time causes gradual salt sedimentation in the land, which destroys fundamental element of the soil, and thus its basic composition," he added.
Almost a half of the total saline affected land falls in the three southwestern districts of Satkhira, Khulna and Bagerhat. Shrimp cultivation has taken more than 77 percent of the region's agricultural land.
"We are not interested in shrimp cultivation anymore. We used to produce 12 to 15 maunds of rice per bigha before the business came. Now it has come down to less than 2 maunds," said Ganesh Chandra Mandal, a farmer of Bonloudub in Khulna.
Unlike Gazi, Ganesh was compelled to get into shrimp cultivation in his little piece of arable land as rice production declined due to saline water in nearby shrimp beds.
Ganesh still considers him lucky to be able to stay in his village. He had the little piece of land to start shrimp cultivation. But many landless farmers who worked as farm workers had to leave their villages in search of jobs in other parts of the country.
"Shrimp cultivation has also hit the landless people hard," said Ganesh.
As he talked to this correspondent, Ganesh pointed to a nearby area where three canals gave way to a dam that used to reserve saline water for shrimp cultivation.
Shrimp cultivation is also blamed for causing salinity in groundwater, and withering of trees.
Villagers need to travel miles to collect fresh water.
"It takes four hours to bring water. We leave in the afternoon and return with water late in the evening, as we have to travel up to the border of the next union for water," Ganesh's wife said.
The water crisis has become acute in 80 percent of the three southwestern districts where even deep tube wells pump out saline water, and rain water turns saline once it falls on the salt-affected ground.
Increased salinity also has affected homestead vegetation. Pasture land is disappearing affecting the livestock in the area.
"It is beyond doubt that nothing but shrimp business is the main cause behind the increasing salinity and damage of the environment in the coastal area. But you cannot always tell the truth, especially when it earns foreign currencies," said an SRDI top official when asked why the institute's study does not focus on the cause of the problem.
BEGINNING OF A DISASTER
Shrimp cultivation first began in Munsiganj of Satkhira in 1972, outside the Bangladesh Water Development Board (BWDB) embankment, which was built in the 1960s along the coastline to save land from saline water.
International market and short-term benefits brought influential people into the business. There are allegations that these people forced poor farmers to give their land for shrimp cultivation. Big land owners also joined hands with the businessmen, as they were not involved in cultivating their lands.
Gradually the cultivation rolled inside the embankment and engulfed villages after villages and then districts, making thousands of farmers jobless. Shrimp cultivation reached Khulna and Bagerhat around 1980.
A study found that by 1990 the protection embankment was breached at 1,100 places for shrimp cultivation, making the region vulnerable to natural disasters. As the coastal land was mono-crop, where only rice could be cultivated during rainy season, soon shrimp business became a round-the-year activity.
Researchers found complete disappearance of several aquatic plants, weeds, and local fish species since the start of shrimp cultivation.
Salinity is having its toll on the region's environment.
Gazi has only four dying coconut trees now in his homestead, down from 276 trees of 20 varieties of fruits in the garden surrounding his house.
This rapid fall in greenery occurred all over the 2,700 hectares of Gabura turning the entire area of land arid with hundreds of thousands of cracks on the ground.
A study by Bangladesh Environment Lawyers Association (Bela) found shrimp cultivation blocked 105 canals in the coastal area. Only in Shahebed Abad in Khulna 64 ponds were destroyed by shrimp cultivation.
Nowadays the shrimp business itself has become less profitable due to irregular and uncontrolled use of pesticides and fertiliser in the enclosures.
A frustrated Gazi said, "There is no way I can rebuild what I've lost. It takes care and love of an entire life to make such a home."