Pakistan plays China card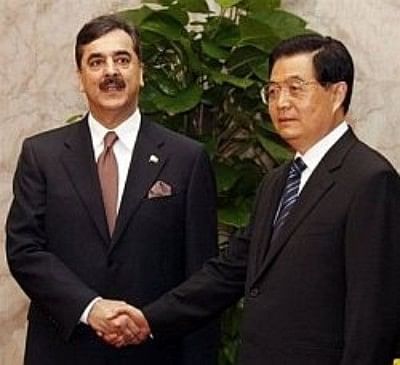 Pakistani Prime Minister Yusouf Raza Gilani arrived in Shanghai on May 17 for a four-day visit to further boost ties with China. He met key Chinese leaders including President Hu Jintao, Premier Wen Jiabao and Chairman of the Chinese People's Political Consultative Conference (CPPCC) Jia Qinglin.
The timing of the visit is significant as the trip follows the killing of the al-Qaeda leader by US Special Forces on Pakistani soil, in a raid that has cast a pall over US-Pakistan ties and was widely expected to push Islamabad closer to Beijing.
Gilani has spent much of his visit to China lauding Pakistan's decades-long "all-weather friendship" with Beijing, as pressure mounts over the raid that led to bin Laden's death, and US lawmakers demand a review of aid to Islamabad.
Gilani told China's official Xinhua news agency: "We appreciate that in all difficult circumstances, China stood with Pakistan. Therefore, we call China a true friend and a time-tested and all-weather friend. We are proud to have China as our best and most trusted friend, and China will always find Pakistan standing beside it at all times."
Gilani's comments appeared to underscore tensions with Washington following the
May 2 US raid on a compound in northern Pakistan, which left the country's civilian and military leaders angry and embarrassed.
China has voiced firm support for Pakistan since the bin Laden episode, and in the overseas edition of The People's Daily, China's main official newspaper, an editorial on May16 said: "US opinion has not only failed to criticise its own unilateralism in this action (against bin Laden) violating Pakistani territorial sovereignty, it has vilified Pakistan as a scapegoat for its own rough going in its war against terror."
During the visit, regional peace and stability, regional development and anti-terrorism were reportedly discussed and the two sides signed a series of cooperation agreements and discussed how they could better combat extremism.
This year is also the 60th anniversary of the establishment of diplomatic ties between Pakistan and China, called "a Pakistan-China Friendship Year" as agreed during Premier Wen's visit to Pakistan in December 2010, and a series of functions are being held to celebrate it in both countries. To commemorate 2011 as the "Year of Pak-China Friendship," the State Bank of Pakistan began issuing Rs.20 commemorative coins on May 21.
Facing weak western investment in its declining economy, and crippling power shortages, Pakistan is looking for closer trade and energy ties with China. Besides strengthening political bonds, the focus of this trip has been on cementing economic and trade ties, which are already very strong, and discussing how to bring them to a new high level. Further cooperation in the infrastructure sector, including road and railway construction, as well as finance and investment and new energy, was discussed.
Prime Minister Gilani told a joint business forum in Beijing: "There is great potential for the participation of Chinese corporations in the development of the energy sector in Pakistan. This includes hydro, thermal and renewable. Joint ventures, with equity participation of Chinese corporations and financial institutions, can transform Pakistan's economic landscape and would certainly prove to be a win-win scenario. I would urge Chinese corporations to focus on Pakistan in their strategic business plans."
Bilateral trade between China and Pakistan reached $8.7 billion in 2010, up 27.7% year-on-year, according to a report. Last year, Chinese companies signed construction contracts worth $1.4 billion in Pakistan, and the nation's direct investment in Pakistan reached $26 million, according to China's Ministry of Commerce.
Industrial and Commercial Bank of China, the nation's biggest lender, will open its first two branches in the Pakistani cities of Islamabad and Karachi this week.
In recent years, more people-to-people exchanges, including youth, student and academic exchanges between the two countries have taken place.
Around 6,000 Pakistani students are currently studying in China. A delegation of 100 Chinese young people visited Pakistan in January, and 100 Pakistani young people will visit China later this year.
Fu Xiaoqiang, a scholar of South Asia studies at the China Institute of Contemporary International Relations, said that to further boost bilateral trade, the two countries need to open up new economic growth points, such as cooperation and investment in energy.
China designated Kashgar in the Xinjiang Uygur autonomous region, which is near Pakistan, as a new special economic zone last year. "This will help to open a trade passageway in the region," Fu said.
China is the main arms supplier to Pakistan, which sees Beijing as an important counter-balance to its traditional rival India. India has recently improved its ties with the United States, causing worry in Islamabad and China.
During the visit, China has reportedly agreed to provide 50 more JF-17 fighter jets to Islamabad on an "expedited" basis -- perhaps evidence of stepped-up military cooperation. It is reported that India's defence minister has expressed deep concern about the growing cooperation on arms between the two countries.
It is interesting to note that before his China trip on May 16, US Senator John Kerry, Chair of the US Senate Foreign Relations Committee, met Prime Minister Gilani. Senator Kerry told the prime minister that their strategic relationship was too important to let go.
Senator Kerry met with Pakistan's army chief as well as President Zardari, and agreed that both countries would cooperate in any future raid.
"Ultimately, the Pakistani people will decide what kind of country Pakistan becomes, whether it is a haven for extremists or the tolerant democracy that Pakistani founder Muhammad Ali Jinnah envisioned 64 years ago," said Kerry.
Pakistan has received $14.6 billion in economic and military assistance from the US since 2005 to assist allied forces fighting Taliban and al-Qaeda guerrillas. Kerry stressed that US lawmakers were demanding a review of billions of dollars in aid money to Pakistan because of Osama Bin Laden's refuge for many years in Pakistan.
Gilani's visit and statements show that China is an important neighbour and strategic cooperative partner of Pakistan. In recent years China-Pakistan relations have made big headway and the leaders have kept frequents contacts and conducted effective cooperation in areas of economics, trade and arms.
Analysts say that the visit sends out a powerful signal -- that Pakistan has an alternative backer in Beijing should the US push Islamabad too far.
The writer is a former Bangladesh Ambassador to the UN, Geneva.