Israel defiant
Netanyahu rejects Obama's Palestine border plan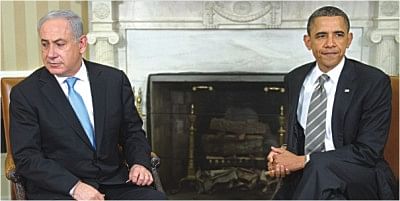 Israeli PM Benjamin Netanyahu has rejected US President Barack Obama's call for peace with the Palestinians based on pre-1967 borders.
After tense talks at the White House on Friday, a defiant Netanyahu said Israel was prepared to compromise but there could be no peace "based on illusions".
Obama, who formally adopted the principle on Thursday, admitted there were "differences" between the views. But he said such differences were possible "between friends".
In his speech to the state department on Thursday, Obama stated overtly for the first time that the peace talks should be based on a future Palestinian state within the borders in place before the 1967 Middle East War.
"The borders of Israel and Palestine should be based on the 1967 lines with mutually agreed swaps, so that secure and recognised borders are established for both states," he said.
This proposal has been a key demand of the Palestinians in the negotiations.
But speaking in the Oval Office after their meeting, Netanyahu flatly rejected this proposal, saying Israel wanted "a peace that will be genuine".
"We both agree that a peace based on illusions will crash eventually on the rocks of Middle Eastern reality, and that the only peace that will endure is one that is based on reality, on unshakeable facts."
'DEMOGRAPHIC CHANGES'
Israel was "prepared to make generous compromises for peace", he said, but could not go back to the 1967 borders "because these lines are indefensible".
He said the old borders did not take into account the "demographic changes that have taken place over the last 44 years".
An estimated 5,00,000 Israelis now live in settlements built in the Palestinian West Bank, which lies outside those borders.
The settlements are illegal under international law, although Israel disputes this.
Obama said there were obviously "some differences" in the "precise formulations and language" used by Israel and the US, but that this "happens between friends".
He did not bring up the matter of the borders in his joint conference with Netanyahu.
But he said Palestinians faced "tough choices" following the recent reconciliation deal between Fatah, which runs the West Bank, and Hamas, which governs Gaza and still denies Israel's right to exist.
Obama said true peace could only occur if Israel was allowed to defend itself against threats.
The BBC's Paul Adams in Washington says that while notion of a peace agreement based on 1967 lines is not news, Obama has clearly angered Netanyahu by formally adopting it.
Netanyahu has come under increasing pressure as world figures and organisations, including American's partners in the Middle East Peace Quartet, EU, UN and Russia, lined up to back Obama's position.
Arab League chief, Amr Moussa, also called on President Obama to remain committed to the plan.
But in the absence of a viable peace process, it is unclear what will come of US-Israel talks, says our correspondent.