IMF chief faces more sex assault charge
Denied bail; French writer ready to complain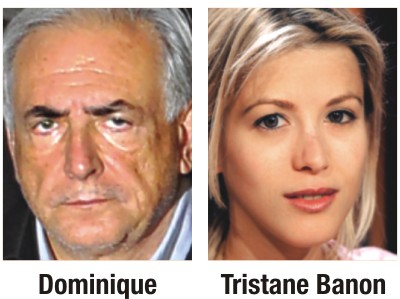 A French writer is to make a complaint alleging Dominique Strauss-Kahn sexually assaulted her in 2002, her lawyer said yesterday, after the IMF chief was arrested in New York on a similar charge.
Novelist and journalist Tristane Banon, 31, previously made the allegation against the leading politician in 2007 on television and in an interview with a news website, but she had not made a formal complaint to authorities.
"We're planning to make a complaint. I am working with her," lawyer David Koubbi said, adding that his client had previously been persuaded not to take action by her mother, a regional councillor in Strauss-Kahn's Socialist Party.
Meanwhile, a court in New York has remanded Strauss-Kahn in custody on charges of sexual assault. The judge said Strauss-Kahn, 62, is a flight risk, BBC adds.
Strauss-Kahn was arrested on Saturday in New York after a chambermaid who had been cleaning his 3,000-dollar-per-night hotel suite alleged that he had come out of the bathroom naked and sexually assaulted her.
His lawyer expressed disappointment at bail being denied, but said his client would be exonerated. "This battle has just begun," defence lawyer Benjamin Brafman told the court.
Prosecutors told the court it was not the first time Strauss-Kahn had been involved in such an incident and argued he had been arrested attempting to flee the country.
However, in February 2007, Tristane Banon was a guest on a television chat show and recounted how a senior politician had lured her to a virtually empty apartment in the guise of agreeing to give an interview and then assaulted her.
In the broadcast version of her comments the name of the politician, whom she branded a "rutting chimpanzee", was bleeped out, but a year later Banon confirmed to the AgoraVox website that she was referring to Strauss-Kahn.
"I put down the recorder straight away to record him. He wanted to hold my hand while he replied, because he told me 'I wouldn't be able to manage unless you hold my hand'," she alleged in the Paris Premiere broadcast.
"Then the hand went to my arm, then a bit further, so I stopped straight away," she explained. "It finished very violently -- as I told him clearly 'No, No!' -- and we finished up fighting on the floor.
"There wasn't just a couple of blows. I kicked him, and he tried to unclip my bra, to open my jeans," Banon alleged, adding that she eventually made her escape and considered pressing charges before abandoning the idea.
"I didn't want to be for the rest of my days the girl who had had a problem with a politician," she said.
Banon's mother, Socialist politician and blogger Anne Mansouret, confirmed to the news website Rue89, that she had advised her daughter at the time not to make a formal complaint, for fear of hurting her career in journalism.