'Govt has to take initiatives for trial of war criminals'
Irene Khan says AI to support process of trial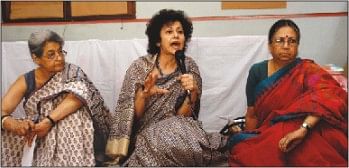 Amnesty International (AI) Secretary General Irene Khan yesterday said the government has to take initiatives to bring the war criminals to justice.
She also urged the government to set up a 'Fact Finding Commission', which will take necessary steps to prosecute the war criminals.
The government should also take advice from the United Nations on legal steps in this regard, she said at a view exchange meeting at the office of 'Ain O Salish Kendra (ASK)' in the city.
"As a Bangladeshi citizen, I demand the trial of war criminals and the Amnesty International would support the process of trial," said Irene Khan.
"The trial of war criminals is not the question of individuals, it is the question of state responsibility," Irene Khan said, adding that the government has the responsibility to try the war criminals.
Replying to a question, the AI chief said the government should seek advice from the legal adviser to the UN secretary general on the process of trial.
"The government can reduce the punishment of an accused, but it cannot forgive their crime," she said, adding that no governments in the world has the right to forgive war criminals.
"We demand trial of war criminals, not revenge," said the chief of the global human rights watchdog.
It is true that the trial could not be held in the last 36 years, but it is better late than never, she said.
The people are now more conscious and the demand for the trial are drawing attention of the international community, she added.
Citing examples of the trials of Charles Taylor, General Augusto Pinochet and Slobodan Milosevic, the AI chief said that a 'Truth Commission' and a 'Fact Finding Commission' have to be formed to gather evidence of war crimes and that a 'national tribunal' would arrange the trial.
"The trial has to be free and fair," she added.
Irene Khan advised the organisations concerned to communicate with the international community who are working on the trail of war criminals.