Glorious end to Farashganj's dream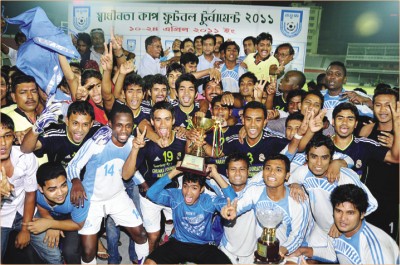 As far as cup finals go, this was a welter-weight clash at best. There was no Abahani, there was no Mohammedan and even Muktijoddha had failed to make it this far. So had rising upstarts Sheikh Jamal Dhanmondi Club. Instead the final of the Independence Cup yesterday was attended by two teams whose ambitions, even at a stretch, could not be described as lofty.
But that took away nothing from a gripping encounter which was decided in favour of underdogs Farashganj who triumphed 5-4 in penalties to seal the most unlikely of triumphs and bring home the first piece of silverware in the club's history.
For Sheikh Russel, a club who have quietly overachieved in the domestic circuit for a number of years, the loss represented a missed opportunity after they had dominated most of the game and extra-time. Throughout the game they were foiled by some stoic defending from Farashganj and a lack of a proper final ball. For Farashganj, the victory will see them gain the tag of giant-killers after they beat both Sheikh Jamal and Abahani on their way to these heady territories.
In a tense penalty shoot-out it was Farashganj who kept their heads as midfielder Moklesur Rahman emphatically fired home their seventh shot, after Sheikh Russel's Prodip Barua had seen his shot saved previously by goalkeeper Sujon.
Eduard Sakhnevich, Duke, Emu and Yousuf scored for Russel while apart from Moklesur, Vasani, Mamun Mia, Sohel Rana (with a cheeky chip) and Jewel Rana also scored their 12 yarders.
The match itself was also a free-flowing affair, although it only hit the heights towards the end as both teams tired and opportunities came the way of both. There were no niggling fouls, nor any elongated delays save perhaps the one that followed Sheikh Russel's equaliser.
Both sides lined up in identical 4-4-2 formations and played similar styles; the result being that they often cancelled each other out. It was Russel though, who showed the most initiative in the first half as they embraced their unusual role of favourites. They kept possession well and constantly drove forward to breach the Farashganj backline.
The minnows however, were more than happy to play on the break. A strong defence, marshaled expertly by Amadi Moses and Soeb Hossain Sunny were set up perfectly to soak up the pressure and hit Russel on the break. It was a ploy that failed for most of the first half but worked perfectly just minutes before the break to produce the game's opening goal.
Although starved off the ball for most of the match, star striker Sohel Rana, who had scored in both their previous games, made the crucial intervention. Latching on to a hopeful punt from the deep he drew two defenders before expertly flicking the ball through to the onrushing Kalu Johnson. Set through on goal, the Nigerian made no mistake with a thumping shot in at the near post.
With their lead intact, Farashganj retreated even more into their shell in the second half. And even as Russel pressed and probed for most of the second-half clear-cut opportunities were hard to come by.
Russian striker Eduard Sakhnevich who added a touch of class to proceedings whenever he got the ball found himself having to drop deep to get into play, thus nullifying his threat to goal.
So inept were Russel that it looked destined to finish 1-0, before lady luck finally smiled on them as defender Abbas Insuah's hopeful punt from outside the box took a massive deflection to leave goalkeeper Sujon stranded.
Russel looked to press home the initiative in extra-time but some last-gasp defending and woeful decision making saw their chance of a first title slip away in the dreaded shoot-out.