Halda fishes act unusually
Release eggs before rain; experts sight salty water intrusion as reason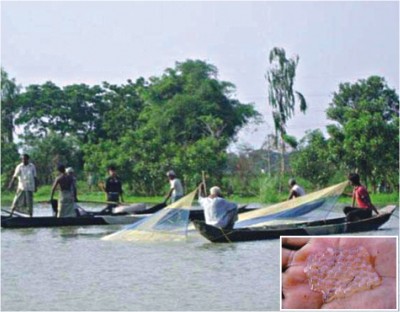 In conditions adverse to laying eggs, a number of indigenous fish species yesterday released spawns in the Halda river in Hathazari and Raozan upazilas of the district, a major natural sweet water fish breeding spot.
Mother fishes usually depend on factors like temperature of water, current, rain and thunder to lay eggs during the full moon, said experts and local fishermen.
Despite the absence of any such condition this time, different fish species including ruhi, katol and mrigel released eggs in the river.
Asked about this, Md Manjurul Kibria, assistant professor of Zoology at Chittagong University, said they found such happening for the first time. It seems unusual.
This might be an impact of climate change, he said. They will observe the situation for a few days to find out the reasons.
Manjurul, however, said tests yesterday found Halda water salty, and they advised spawn collectors to preserve the eggs in sweet pond water.
Meanwhile, fishermen have started collecting spawns from the Halda but fear high tide might carry those away.
Indigenous fish species usually release spawns during the Bangla month of Chitra when it rains and thunders. But this time they did not, some fishermen said.
"We were really surprised to see spawns floating in the river yesterday," a fisherman said.
In the 1960s and 70s, Halda fish spawns used to meet about two-thirds of the need for that for fish cultivation in ponds in the country, experts say.
Illegal fishing has led to a drastic fall in the quantity of eggs available from the Halda. Only 20 kgs of fish fry were collected from the river in 2004 compared to 2,500 kgs in 1946, they add.