Honouring a Rare Sacrifice
Shaheed Habibur Rahman monument inaugurated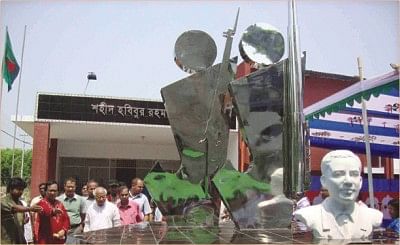 A bust of Shaheed (martyr) Habibur Rahman and a monument in his honour, installed at the entrance of Shaheed Habibur Rahman Hall of Rajshahi University, was inaugurated on March 26 to commemorate his martyrdom in 1971.
The monument, named "Bidhargo" (a house of wisdom), is adorned with a bust of Shaheed Habibur Rahman and two steel images -- of a freedom fighter with a gun on his shoulder and an intellectual with a pen -- installed on a hexagonal basement.
The black tiles are a symbol of mourning while the red bricks and green grass represented the national flag. Sculptor Shaon Sagir had designed the monument.
RU Vice-Chancellor Prof Abdus Sobhan inaugurated the monument on the occasion of Independence Day, while Pro-Vice Chancellor Professor Muhammad Nurullah and treasurer Professor Abdur Rahman were present as special guests.
The inaugural ceremony was followed by a discussion with Shaheed Habibur Rahman Hall provost Dr. Shahid Iqbal in the chair.
Professor Abdus Sobhan in his inaugural speech said the monument will play a commendable role in rekindling the spirit of the Liberation War as well as depicting the facts of history for the new generation.
The country achieved its independence in 1971 through supreme sacrifices made by its people. The largest educational institution of the northern region, Rajshahi University (RU), made its own share of sacrifices. The institution was also at the forefront of the resistance movement during 1971 as the Pakistani army launched a military operation against Bengali civilians, students, intelligentsia, and armed personnel in the country on March 25.
Like many other places in the country, RU was attacked on the dark night of March 25. Around mid April, a huge force of the Pakistani Army entered the city. Most of the campus residents left the area as the Pakistani army established their base at the university halls.
The army turned Shaheed Shamsuzzoha Hall into a 'concentration camp' and 'repression centre'. After torturing them, the barbarians killed the students, the intellectuals and able-bodied males at the mass graveyard behind Zoha Hall.
Professor Habibur Rahman, a teacher of Mathematics was a voice of protest in the university. He was also regularly communicating with freedom fighters. Some collaborators informed the Pakistani army about Rahman's role in the resistance.
Though he was aware of impending danger and his colleagues pleaded him to leave, he stayed on the campus with his family. On April 15, the Pakistani army led by Brigadier Aslam and Colonel Taj launched a drive at his house and picked him up. He never returned.