Power plant equipment hits road to Tripura
Transhipment begins thru diversion roads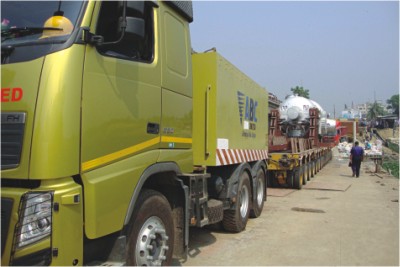 Four consignments of power plant equipment bound for Indian state of Tripura left Ashuganj river port early yesterday. They will travel 49 kms in Bangladesh territory before entering India through Akhaura.
This is the first instance of India using Bangladesh roads for transhipment.
As many as 16 diversion roads were built over the last three months so that heavy-duty trailers carrying equipment for Palatana Power Station in Tripura can avoid 15 risky bridges and culverts on the way to Akhaura.
The equipment was sent from West Bengal to Ashuganj through riverways.
Ramizuddin, sub-assistant engineer of Brahmanbaria Roads and Highways Department, told The Daily Star that the logistic company, ABC India, won the contract to transport the equipment required to build the 726-megawatt power station.
ABC India got the diversion roads built by contractor Gulf Orient Seaways Limited of Bangladesh.
When four Indian Hydraulic Excel Trailers loaded with equipment around 12:30am started from Ashuganj, high officials of the district administration, law enforcement agencies and customs were present there to provide security and other supports.
Since March 9, ships carrying 16 consignments ranging between 20 tonnes and 285 tonnes have reached the Ashuganj port from Kolkata. Yesterday four of them were sent by the trailers.
The trailers-- three having 120 wheels and another 128 wheels-- are moving at a speed of five kilometres per hour carrying a consignment of around 80 tonnes each.
Total 96 consignments for the power station will be transhipped from Kolkata to Tripura using the road. Gulf Orient Seaways Limited will arrange the transportation from this end under the supervision of the Roads and Highways Department.
According to the memorandum of understanding (MOU) between Bangladesh and India, the transhipment is supposed to conclude by the end of June 2012.
Gulf Orient Managing Director Sheikh Mahfuz Hamid, however, said they are hopeful to complete the work by June this year.
The foundations of about 4,500 crore rupee Palatana Power Plant were laid in 2005, but the main construction work could not be started because of difficulties in carrying heavy equipment from Kolkata to Tripura.
The solution to the problem came when Bangladesh agreed to allow the transhipment following an Indo-Bangla accord during Prime Minister Sheikh Hasina's visit to New Delhi in January last year.