PM meets Bhutan king
Discusses power, water management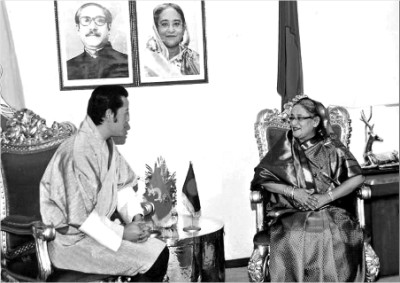 Prime Minister Sheikh Hasina and Bhutan's King Jigme Khesar Namgyel Wangchuk yesterday discussed regional cooperation in generation of electricity and management of waters of common rivers for mutual benefit.
During the nearly one and a half-hour meeting at Sonargaon Hotel in the evening, they discussed a new project for generating hydro-power through joint collaboration between Bangladesh, Bhutan and India.
Bhutan, rich in hydro-power, has already signed a project with India for generation of 10,000MW of electricity by 2020.
On water management, Prime Minister Hasina and King Jigme Khesar stressed four-nation collaboration among Bangladesh, Bhutan, India and Nepal.
Briefing reporters after the meeting, Foreign Minister Dipu Moni said that if this cooperation becomes fruitful, "many tensions among us will be diffused and all will be benefited."
The two leaders also discussed increasing trade and commerce and connectivity between Bangladesh and Bhutan.
They also discussed cooperation in the pharmaceutical sector as Bangladesh is strong in pharmaceuticals while Bhutan in traditional medicines.
Bhutan earlier had proposed to recruit specialist and general physicians from Bangladesh to improve their health sector. Dipu Moni said much progress has been made in this matter.
Foreign Minister Dipu Moni, Food Minister Dr Abdur Razzaque, PM's Economic Advisor Dr Mashiur Rahman, Ambassador at-Large M Ziauddin, Foreign Secretary Mijarul Quayes and PM's Press Secretary Abul Kalam Azad were present.