Dhaka University Theatre Fest Ends through Bichar Gaan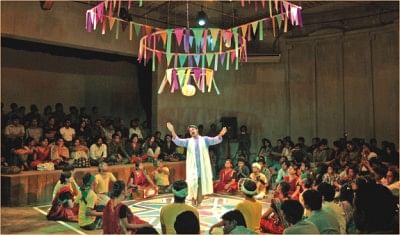 The fortnight-long theatre festival by the Department of Theatre, Dhaka University (DU) wrapped up on March 15 through performance of traditional 'Bichar Gaan'. The festival that began on March 1 featured 25 plays, including works of world renowned playwrights. The plays were staged at the Natmandal auditorium on DU campus.
The festival was arranged as part of the curriculum of the final year students. Each student from the batch directed a play. Actors, set, music and light designers -- all are DU students as well.
Syed Muhammad Zubayer directed the 'Bichar Gaan' act. Sheikh Zahid Azim collected and compiled the script. Azim and Afzal Kabir were the lead performers of the pala.
'Bichar Gaan' usually features conversation between the performers through singing. Rhythmic movements and gestures of the performers are also considered integral components of the pala. Of the art form's several sub-genres, the students chose the 'Guru Shishya pala' for the performance.
The 'Guru Shishya pala' featured conversation between a teacher and his disciple, while several others accompanied them in chorus. The pala demonstrated how a disciple seeks a true master and how a master will choose a worthy individual as his disciple. This approach also symbolically refers to the eternal endeavour to be in the Creator's proximity.
Sheikh Zahid Azim and Afzal Kabir played the master and the disciple in the pala. Both performers gave credible effort to provide performances as palakar traditionally do. Fourteen other students helped them in chorus.
The director also designed the set, light and costumes for the production.
The festival, titled "Robi Srijonshil Tarunyer Natyaprakash 2011" featured a diverse range of theatrical works -- from indigenous forms of Bangladesh to world classics from Europe and America.
Though there were few local productions, the festival was dominated by adaptations of European dramas, such as "Padodhoni" (adaptation of Samuel Becket's work); "The Old Man and The Sea" (Ernest Hemingway); "Enigma" (Floyd Dell); "The Dumb Waiter" (Harold Pinter); "A Marriage Proposal" (Anton Chekhov); "The Audition" (Rudolf Sirera) and "Death Knocks" (Woody Allen).
The Bangladeshi plays staged during the festival included "Ujaney Mrittu" (written by Syed Waliullah); "Mukhosh" (adapted by Syed Shamsul Haq); "Juktihin Joog" (by Abdul Mannan Syed) and "Kaththokra" (by Buddhadeb Basu). The duration of the plays ranged from 30 minutes to over one hour.
Telecom operator Robi was the sponsor of the festival.