On Tunisia-Libya Border Morshed Ali Khan writes from the spot where thousands of Bangladeshi workers have taken shelter after fleeing the Libyan upheaval
Home beckons, holds no hope
Bangladeshi fortune-seekers tell of manpower touts, survival struggle at border camp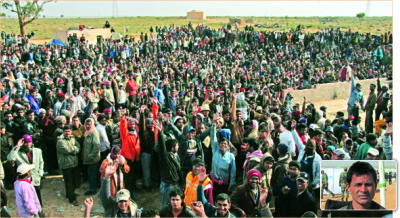 "Human trafficking!" exclaimed an IOM official shocked to his very core, "These are Bangladeshi migrant workers in Libya fleeing Gaddafi's atrocity. How can they be victims of human trafficking?"
The official's seemingly reasonable reaction was triggered by the tales told to me by Bangladeshi youths at the crowded refugee camp of Choucha near Libya-Tunisia border yesterday.
Many of the remaining 11,000 men, now desperately waiting to get home, had the same story of being cheated on their journey from home to Libya. With more compatriots being repatriated every day, they are waking up to realise that a harsh reality awaits them back home.
I saw several thousand of these men sitting impatiently in the scorching desert of Choucha to hear from the IOM and others, not about food or drink but when they could go home.
Soon I was surrounded by young Bangladeshi workers. They told me how badly the Bangladesh Embassy in Tripoli treated them and how utterly indifferent the officials remained to the plights of thousands of workers trying to obtain travel passes.
Md Atabar of Belabo, Narsingdi, along with 100 others, spent two days in the embassy storehouse before being kicked out of there by a Bangladeshi official named Kibria.
"But I want to tell you about how we were lured to Libya from Bangladesh with false documents and promises," said Atabar, who is in his early thirties.
As he spoke, the surrounding crowd suddenly became quiet. "Like every one else here I paid Tk 2.5 lakh to an agency in Dhaka for a job here. The agency said our salary would be $360 per month."
"I sold our family land to manage the money. But when I came to Tripoli, to my surprise I realised that I had been cheated. Now I am to go home empty handed," told Atabar.
Others also had the strikingly similar story. The agencies sent thousands of these migrant workers to Libya over the last two years. The whole process was designed by a vicious circle, which the workers firmly believe is backed up by a section of government officials.
"At the Dhaka airport a year ago, just before our group boarded a Biman flight, several people from registered recruiting agencies asked each of us to sign a paper without which, as they told us, our flight would be cancelled," said Mokhlesur Rahman Mansur from Shahjahanpur, Bogra, adding that the paper stated that the workers would accept any wage offered by their employer in Libya.
Once the group landed in Tripoli, two men named Babul and Sayeed, who were employed by the same agency in Dhaka, received the workers at the airport. The first thing the two did was that they took away the workers' passports. The group of forty people was then taken to an abandoned warehouse in the suburb of Tripoli and was asked to wait there.
"None of us speaks any language other than Bangla and those two, Babul and Sayeed, threatened us of deportation if we disobeyed them. We became totally helpless in a foreign country," said Mansur.
Like many at the Choucha camp, Mansur's group waited and almost starved in that warehouse for two months. "When Babul and Sayeed finally took us to work, we learned that our salary would be paid to them, not to us. They sold us!" Mansur added.
"Every month they used to receive our salaries, which was about 200 Libyan dinars (= $ 220) for each worker in place of the promised $ 360, and deducted half the money for what they claimed food and accommodation. We each received only $ 110 as our wages per month," said Mansur.
And then again, whatever little money they could save out of their salaries was looted by rebel Libyans when the Bangladeshi workers were fleeing the politically shaken country.
The recruiting agencies the workers were complaining against include Akash Bhraman and Banglar Progoti -- both licensed by Bangladesh government.
However, none of the stories told by these deceived youths matches the one of 28-year-old Najimuddin, son of Nurul Haque of Feni sadar. He insisted on talking to me as I was walking through Choucha camp yesterday trying to find an UNHCR official.
"I sold my father's land and mother's ornaments to hand over Tk 2.7 lakh to Mostafa of Micro Export agency in Naya Paltan for processing my papers for an overseas job," said Najimuddin tightly holding my arm.
"Three months later, Mostafa called me over the phone and asked me to go to Dhaka to board a plane for Libya. When I reached Dhaka, to my surprise I found that my name in the passport was Gopesh Chandra Nath, son of Umesh Chandra Bhoumik. Mostafa told me that it was the only way if I wanted to go to Libya. He also told me to memorise my new personal details in the passport and learn about Hindu religion and custom in two days," said Najimuddin.
"I could not share the matter with anyone but I had no choice. I came to Libya as a Hindu where most of my fellow Muslim migrants from Bangladesh in the dormitory and at work treated me differently and made sure that I did not eat beef or share their kitchen utensils, as it is forbidden according to Hindu religion. I could not even say my prayers for the fear of my religion being exposed," he added.
"It was unbearable and the fear of deportation always haunted me. I will tear that passport as soon as I get home and return to my own identity, an ever poor man," Najimuddin was still holding my arm as he finished his story. I promised him to write his story.
The thousands of stranded Bangladeshi workers have probably opened a new door for us to look into the system through which they are trafficked, exploited and then abandoned. After all, it is the remittance sent by them that keeps the nation's backbone upright.