In quest of nouveau angles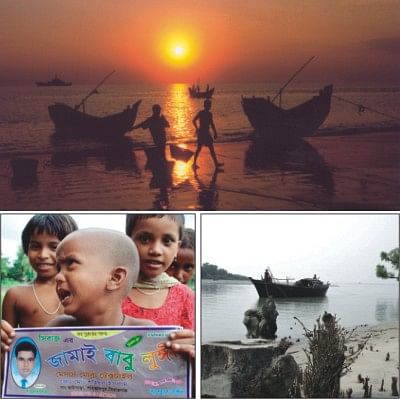 Works of three young photographers -- Sajal Khaled, Musa Ibrahim and M.A. Mohit -- are on display at the residence of renowned bird photographer Enam Ul Haque. Their solo exhibitions are for three days each. In their works one can find fresh ideas and dimensions of camera work.
Sajal Khaled's works feature the innocence of children.
Sajal says, "I photograph different things but children remain my favourite subject." In 2004 he had an exhibition on German graffiti and in 2007 he had one based on abstract art with artist Swapan Chowdhury. In Germany, earlier, he had three exhibitions -- in Berlin, Cologne and Dresden. Comparing his experiences in Germany with the ones in Dhaka, Sajal says that in Europe it is not easy to have a solo exhibition and one has to be skilled at one's craft to attract viewers. "Here I have my friends and family to support me and I feel much more relaxed," says Sajal.
Sajal believes that children are the most beautiful beings in the world. His series Inspiration includes 22 photographs in which he has tried to capture children enjoying moments of bliss. For Sajal these photographs are nostalgic too.
In one of the pictures one sees children climbing a bent coconut tree, leaning over a river. The shot was taken on a rainy day. In another photograph, a child is playing with empty ice-cream cartons at Ramna Park, surrounded by three inquisitive crows.
"A child's world is full of innocence and free from the responsibilities and tensions of the adults," says Sajal. A piece featuring a child holding up a large advertisement for a lungi, which says Purusher pochando, is quite funny.
Sajal believes that with the coming of digital photography, "photographers are gradually losing their imagination and skill."
The photographers he admires are Anwar Hossain , Enam Ul Haque and Abdul Hamid.
M.A. Mohit says that he goes in for capturing the ways of ethnic people and wild life, taking tips from senior photographers. He has had exhibitions of his works on the Himalayas and the people of the Chittagong Hill Tracts. This time he has concentrated on life in the coastal areas of Bangladesh.
In one of his pictures one sees sunrise in St. Martin; people are seen catching and cutting fish before drying it. In another photograph we see shrimp farmers of Nijhumdwip in Noakhali; four children are seen at work. The next photograph shows the gathering of clouds, before a storm. Boats, people, trees and houses are included in the composition.
Musa Ibrahim says that he likes to travel and take pictures of rivers, hillocks and jungles. In this exhibition he has depicted people. Focusing on a place called Chamche in Nepal, he shows a child studying while walking and carrying the younger sister on his backpack. Another photograph brings in the Annapurna trail where a man leads his tired horse home. Below is a wide river and behind are mountains. Yet another picture brings camp scenes of mountaineers.
The exhibitions end on September 5.